Veil of Lies
by Jeri Westerson
Reviewed by Susan Gillmor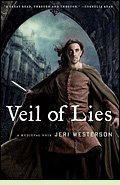 Degraded knight Crispin Guest is the hardboiled, reluctant investigator in Veil of Lies, first in a "medieval noir" mystery series. He sorely needs the fee offered by Nicholas Walcote, a rich merchant who fears his wife may be an adulteress and wants to know the truth. Accepting the distasteful task, Crispin tracks Philippa Walcote through the late fourteenth-century "mean streets of London." When he reports back, he finds the merchant stabbed to death on his study floor. No one and nothing in this new venture is quite what it first appears to be.
The noir atmosphere permeates the novel, its pages filled with a realistic cast of historical and fictional characters. Crispin, a former knight for the legendary historical figure John of Gaunt, lives in squalor amid London's underclass, constantly reminded of how far he has fallen from his aristocratic roots. Leaving his quarters one night, he "sniffed the desolate air. A chill fell with the twilight. . . Shadowy figures huddled near the shopkeeper's glowing fires like lethargic moths." Sheriff Simon Wynchecombe, another character drawn from history, is "a menacing figure" with his "black beard trimmed into two curls." He makes a complex foil to Crispin's investigative prowess.
The medieval equivalent of Italian mobsters appear to be behind an "export scandal" involving "poisonings, torture, extortion, abduction." They're looking for a holy relic etched with the image of Christ, which they believe has the fearsome power to force the truth from anyone in its presence. A minion of this syndicate tells Crispin, "My employers wish to make you an offer that you will find difficult to decline," a wry and welcome touch of humor.
Veil of Lies is an entertaining beginning to the Crispin Guest series, offering a richly historical and murky atmosphere with complex plot twists, and tacitly promising the further development of its sympathetic but flawed protagonist. (2008; 280 pages, including an Afterword and Glossary)
More about Veil of Lies at Powell's Books or Amazon.com

Other mysteries in the Crispin Guest series:
#2: Serpent in the Thorns (2009). Review or More info at Powell's Books
#3: The Demon's Parchment (2010). More info

Nonfiction about relics:
Rag and Bone: A Journey Among the World's Holy Dead by Peter Manseau (2009). More info
Treasures from Heaven: Relics from Noah's Ark to the Shroud of Turin by Steven Sora (2005). More info

Online:
"Relics associated with Jesus" at Wikipedia



Back to Medieval: 14th-15th Century Europe

Back to Directory of Book Reviews