Vainglory
by Geraldine McCaughrean
Reviewed by Annis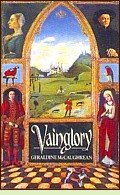 A sumptuous, sprawling saga set in Renaissance France, Vainglory covers 150 years and several generations of an aristocratic French family. Obsessive and acquisitive, the Counts of Gloriole are afflicted by an insatiable hunger: for riches, for the favour of kings, for beautiful and exotic objects, and most of all for their home and hearts' desire, the Château de Gloriole. "It's the family curse", says Comte Victoire de Gloriole. "We crave—more than our fellow men".
Victoire is an ambitious young knight in 1429 when he joins the French forces of Charles VII, led by Joan of Arc to victory against the English army. He can now reclaim the de Gloriole estate, a decrepit castle encircled by the Sablois River. Vital and endlessly inventive, Victoire transforms the ancient keep into a glorious château, holding it as a buttress against the vagaries of fate. The estate flourishes but, like any paradise, has its serpent, in the form of the de Puy family, relatives whose covetous envy knows no bounds. Generations of de Glorioles and de Puys vie for possession of the ever-expanding castle, their lives held hostage meanwhile to the tyrannical whims of successive kings.
A parable about the futility of storing up treasures on earth, Vainglory resembles one of Gloriole's magnificent, flamboyant tapestries, full of lush imagery and jewel-bright detail, and worked throughout with threads of glittering satire. At a time of great extremes, horror and splendour are woven together. In one instance, Catherine de' Medici hosts a grand party which features as entertainment a massacre of Huguenot dissidents in her castle courtyard. In lieu of decorative banners, rebels are hung above the audience's balcony. Brilliantly attired courtiers flit and chatter as men strangle and jerk grotesquely in front of them, discreetly ignoring companions who faint at their feet.
A tour de force. (1991, 596 pages)
More about Vainglory at Amazon.com

Other novels set in medieval and Renaissance France:
Lovesong by Geraldine McCaughrean (1996), a stand-alone novel like Vainglory, this could also be read as a prequel to it. More info
The King's Women by Deryn Lake (2006). More info
In A Dark Wood Wandering by Hella S. Haase (1991). More info

Nonfiction about French castles and 15th and 16th century France:
Châteaux of the Loire Valley by Jean-Marie Perouse De Montclos (2008). More info
The Rise and Fall of Renaissance France by R.J. Knecht (2001). More info
From Renaissance Monarchy to Absolute Monarchy: French Kings, Nobles and Estates by J. Russell Major (1997). More info

Online:


Wikipedia article on the Château de Chambord, the fantastical castle in France's Loire Valley which probably inspired Vainglory's Château de Gloriole
Wikipedia article about the Amboise Conspiracy, which resulted in the mass execution of Huguenot rebels



Back to Medieval, 14th-15th Centuries

Back to Directory of Book Reviews