The Unquiet Bones
by Mel Starr
Reviewed by Susan Gillmor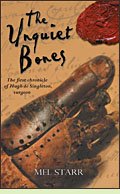 Hugh de Singleton is a young surgeon fresh from Oxford University in The Unquiet Bones, a debut historical mystery by Mel Starr. The English countryside is still recovering from the Black Plague in 1363 when Hugh hangs out his shingle in Oxford. Then the discovery of bones in a cesspit at nearby Bampton Castle prompts Lord Gilbert to "search out the assassin." He appoints Hugh to a new and daunting role as his resident surgeon and bailiff.
Likeable and self-effacing, Hugh displays a quiet, dry wit as narrator. Studying the quirks of his new employer, he notes that it may be "a talent inbred only in nobility" to be capable of raising only one imperious eyebrow. When Hugh meets the suitor of a lady with whom he is infatuated, he "discovered that his conversation was pleasing, his manner polite, his face handsome. . . . I began to dislike him."
The multilayered story holds a reader's attention, although the plot sometimes fades to a backdrop for Starr's extensive knowledge of fourteenth-century culture. A Christmas feast begins with the Pater Noster, followed by "beef in pepper sauce, roasted capon, a pea and barley soup, and Lombardy custard" followed by a "subtlety" (an elaborate dessert) described as "a miniature forest of whipped butter and honey." Three more sumptuous courses (or "removes") engage our taste buds, and we learn much about how the nobility celebrates its holy days.
An extensive glossary defines archaic terms. A "cresset" is "a bowl of oil with a floating wick," a "deodand" is "an object which caused accidental death," and "maslin" is "a bread made from a mixture of. . . wheat and barley and rye or barley." A willing reader may thus be edified with no sense of condescension or undue tedium.
The Unquiet Bones begins a new historical series that will likely engage mystery buffs who enjoy a realistic portrayal of medieval life and sophisticated terminology. (2008; 256 pages, including a Glossary and an Afterword that separates some facts from fiction)
More about The Unquiet Bones at Powell's Books or Amazon.com

Later mysteries in the Hugh de Singleton Surgeon Chronicles series:
#2: A Corpse at St. Andrew's Chapel (2009). More info
#3: A Trail of Ink (2010). More info

Nonfiction about medieval medicine:
The English Hospital: 1070-1570 by Nicholas Orme (1995). More info
Medieval and Early Renaissance Medicine by Nancy G. Siraisi (1990). More info
Medieval and Renaissance Medicine by Benjamin Lee Gordon (1959). More info

Online:
What Ails Ye?, an amusing site about medieval diseases and their "cures"



Back to Medieval: 14th and 15th Centuries

Back to Directory of Book Reviews