Underground
by June Hutton
Reviewed by Margaret Donsbach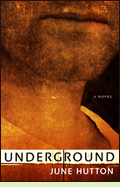 The impressionistic, psychologically astute Underground follows a Canadian man's struggle to recover physically and emotionally after being buried alive as a sixteen-year-old soldier in a World War I trench. "He lies on his back, a tide of earth rising, his limbs swimming slowly against the building weight. Then a wave of sand slaps over his nose. He gasps for air. Arms and legs shoot straight out, then churn against the tumbling clay."
Though rescued by his fellow soldiers and sent home, Al is crippled by what, today, we would call PTSD: post-traumatic stress disorder. Certain noises, places, smells, textures can bring on an incapacitating panic. Seemingly aimless, he drifts through the decades. He loses a house-painting job when the Great Depression strikes. He experiences life in a hobo camp, a Canadian work camp, a Communist-organized strike, and the frozen Yukon before he makes a decision that will make or break his recovery. "Are you completely mad?" his brother asks on learning he has volunteered to fight in the Spanish Civil War.
Two decades have passed since the Great War. "If this were like the last war he'd be considered too old to soldier." Maturity makes a difference, and he begins to recognize not just war's practical uses and traumatic effects, but also its confounding moral complexity. While the novel never shies away from war's horrors or from the less-than-honorable motives of numerous participants on both sides, it also recognizes that some soldiers fight for honorable reasons. Underground is as much a tribute to the 1,600-odd Canadian soldiers who fought in the Spanish Civil War as it is a warning against war's evils.
As with many literary novels, the plot movement is within the protagonist rather than in external events driven by obvious chains of cause and effect. Al's crippling trauma begins underground. His healing, too, if it comes, must originate in the underground regions of his psyche where his memories are buried away. (2009; 246 pages, including a brief "End note" about the history behind the novel)
More about Underground at Amazon.com
Interview with author June Hutton

Other novels about Canadian soldiers:
Empress of Asia by Adam Lewis Schroeder (2008), about a Canadian seaman who falls in love with and marries an Englishwoman in Singapore, and then searches for her across Southeast Asia after they are separated during an air raid. More info
Three Day Road by Joseph Boyden (2005), about two young Cree Indian men's experiences in World War I. More info
Jeremy Kane by Sidney Allinson (1998), a self-published novel about the 1837 Mackenzie Rebellion, which attempted to establish a republican form of government in Canada, and subsequent exile of the rebels to an Australian penal colony. More info

Nonfiction about the Spanish Civil War's International Brigades:
Renegades: Canadians in the Spanish Civil War by Michael Petrou (2008). More info
The Gallant Cause: Canadians in the Spanish Civil War, 1936-1939 by Mark Zuehlke (2008). More info
Comrades and Commissars: The Lincoln Battalion in the Spanish Civil War by Cecil D. Eby (2007). More info

Online:
Mackenzie-Papineau Battalion at Wikipedia, about the battalion of Canadian soldiers who fought in the Spanish Civil War



Back to 20th Century: North Americans in WWI

Back to Directory of Book Reviews