The Underground Railroad
by Colson Whitehead

Reviewed by Margaret Tomlinson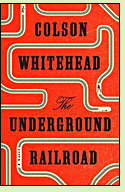 As a child, I thought the Underground Railroad was a literal railroad. So did Colson Whitehead who, in The Underground Railroad, uses this idea to condense history by imagining different stations along the line where different communities approached relations between white and black in different ways. Readers of historical fiction who might normally object to a novel diverging from the historical record may instead find themselves impressed by the way the alteration of fact here illuminates rather than undermines American history.
Cora is a slave on a Georgia plantation whose mother escaped and was never caught. When another slave invites Cora to escape with him, she first refuses, partly because of her entirely rational fear of being hunted down and punished, and partly because of the fresh upsurge of sadness and resentment about her mother's abandonment of her. But she decides to run. The underground stations are so vividly described, they might be real. Here's the first: "The stairwell was lined with stones and a sour smell emanated from below. It did not open into a cellar but continued down. . . . The black mouths of the gigantic tunnel opened at either end. It must have been twenty feet tall, walls lined with dark and light colored stones in an alternating pattern. The sheer industry that had made such a project possible."
Slavery was a brutal, bloody system, and this novel is not for the faint of heart. The most powerful parts of the story, though, may involve the seemingly well meant efforts of white people to help escaping slaves that, in practice, pile new layers of oppression upon them. Readers familiar with the history of race relations will recognize some of the stops along the railroad as historically real situations that have been adapted and imaginatively folded into the fiction. If you're looking for a deeper understanding of the history of American slavery and its shameful legacies, you can hardly find a better introduction than The Underground Railroad. (2016, 306 pages)
More about The Underground Railroad at Powell's Books
or
Amazon.com
Other novels about slavery in America:
Song Yet Sung
by James McBride (2008), about an escaped slave woman and visionary who becomes a leader in helping other slaves escape via the Underground Railroad.
More info
Middle Passage
by Charles Johnson (1990), about a freed slave who becomes a member of the crew on a slave ship. See
review
or
more info at Powell's Books
The Known World
by Edward P. Jones (2003), about a family of black slaveowners in early nineteenth-century Virginia.
More info
Nonfiction about the Underground Railroad:
Harriet Tubman: Conductor on the Underground Railroad
by Ann Petry (1955).
More info
The Underground Railroad: Authentic Narratives and First-Hand Accounts
by William Still (2007).
More info
Gateway to Freedom: The Hidden History of the Underground Railroad
by Eric Foner (2015).
More info
Online:
The Underground Railroad at the PBS website



Back to Nineteenth-Century America

Back to Directory of Book Reviews