Twilight of Avalon:
A Novel of Trystan & Isolde
by Anna Elliott
Reviewed by Margaret Donsbach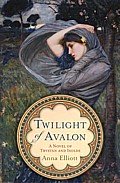 Twilight of Avalon is about life in Celtic Britain after King Arthur. The story is grounded in the earliest complete version of the Arthur tale, in which Modred, Arthur's son from an incestuous union, usurped the kingship and took Arthur's queen as his own while Arthur was away fighting on the Continent.
It has been seven years since the Battle of Camlann and the deaths of Arthur and Modred. Since Camlann, Britain has been in chaos, headed by a young king who lacks the strength to keep its arrogant tribal leaders unified. Now that king, too, lies dead.
In Twilight of Avalon, Elliott dispenses with almost every element of the medieval tale of Tristan and Isolde to craft a new story set in a brutally realistic post-Arthurian setting. Violence is pervasive and distinctly unglamorous. Isolde is no Irish princess, but Modred's and Queen Gwynefar's daughter, wedded as a child to Arthur's successor, King Constantine. Burdened with the guilt her father is no longer alive to carry, Isolde has erased her memories of life before the trauma of Camlann. Her former power as a seer has vanished with her memories, except for sporadic glimmers she can no longer control. She still practices the art of healing, though, and uses her reputation as a witch to defend herself against those who would use and abuse her for their own ends. It is a risky strategy.
In this violence-drenched world, men gain power through betrayal and the sword. Trust is rare, especially for Isolde, both queen and pawn. Elliott sometimes belabors this point at more length than necessary, with captures, escapes and recaptures that can seem repetitive. But Isolde is a deeply engaging character, whose struggle toward healing continues to hold meaning in a world that still contains too much violence. (2009, 430 pages, including a Historical Note discussing the story's sources)
More about Twilight of Avalon at Powell's Books

Other novels about Tristan and Isolde:
The Prince of Dreams: A Tale of Tristan and Essyllte by Nancy McKenzie (2003), a retelling of the Tristan and Isolde legend, with a romantic emphasis on their tragic love story. More info
The White Raven by Diana L. Paxson (1988), a retelling of the Tristan and Isolde legend which makes Isolde's companion Branwen the central character. More info
Isolde, Queen of the Western Isle by Rosalind Miles (2002), a retelling of the Tristan and Isolde legend which blends early and high medieval elements in the setting; #1 in the Tristan and Isolde trilogy. More info
The Maid of the White Hands by Rosalind Miles (2003); #2 in Miles's Tristan and Isolde trilogy. More info
The Lady of the Sea by Rosalind Miles (2005); #3 in Miles's Tristan and Isolde trilogy. More info

Sources for the history of the Tristan and Isolde legend:
The History of the Kings of Britain by Geoffrey of Monmouth (circa 1130), the earliest source for a complete tale of King Arthur. More info
The Tristan Legend: A Study in Sources by Sigmund Eisner (1969), a scholarly examination of the roots of the legend. More info
An Age of Tyrants: Britain and the Britons, A.D. 400-600 by Christopher A. Snyder (1998). More info

At the Movies:
Tristan and Isolde, a 2006 film directed by Kevin Reynolds, starring James Franco and Sophia Myles; a retelling of the classic tale, focusing on the conflict between love and loyalty, with an especially interesting portrayal of King Mark by Rufus Sewell. More info

Online:
David Nash Ford's Early British Kingdoms website



Back to Historical Novels: Ancient

Back to Directory of Book Reviews