Tuscan Rose

by Belinda Alexandra

Reviewed by Margaret Donsbach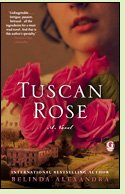 Tuscan Rose tells the story of Italy in World War II from the romantic viewpoint of Rosa, raised in a Florence convent, and then at age fifteen hired as governess on an opulently wealthy estate. It's hard enough for her to leave the only home she has ever known. Worse, she must work in a household haunted by past tragedy and the viciousness of its present mistress, a woman with personal connections to Mussolini and a devotion to little else, it seems, than his cold Fascist philosophy. But does Rosa, brought to the convent as a baby by a mysterious man known only as "the Wolf," have connections of her own to the estate?
Mussolini's emotion-laden speeches evoking past glory - the military empire of ancient Rome - brought him to power in Italy during the 1920s. Italy's experience with fascism took a different turn than Germany's. Mussolini, who had a Jewish mistress, made no attempt to scapegoat Jews until Germany morphed from ally to invader and imposed its own policy in Italy. Mussolini's repressive police state lost appeal to Italians over time, and in 1943 they ousted Mussolini. Though the Nazis reinstated him, a vigorous Italian resistance movement fought a guerilla war against the Germans and Mussolini's remaining Italian supporters.
The heroine of Tuscan Rose learns first-hand what it is to become a political prisoner, to love someone with Jewish ancestry, and to join the resistance, giving readers a suspenseful portrayal of Italy under fascism without ever slipping into a dry history-lesson mode. Rosa's psychic ability to see the origins of her food can be distracting in an otherwise realistic novel but helps explain her vegetarianism and her unusually empathetic nature. The novel portrays the brutal aspects of life under a dictatorship with some vividness, but does not linger over the violence. Tuscan Rose is a romantic novel that offers real insight into historical events. (2010; 584 pages, including an Author's Note separating fact from fiction)
More about Tuscan Rose at Powell's Books
or
Amazon.com
Other novels set in Italy during World War II:
A Thread of Grace
by Mary Doria Russell (2005), about an Italian village's effort to protect Jewish refugees from the occupying Nazis during World War II. See
review
or
more info at Powell's Books
The English Patient
by Michael Ondaatje (1992), about a nurse who fears falling in love and her patient, a nameless burn victim with a tragic love in his past, who are taking shelter in a bombed Italian villa near the end of World War II.
More info
You, Fascinating You
by Germaine Shames (2012), about Pasquale Frustaci, who wrote the love song "Tu Solamente Tu" in 1938 after his wife was deported from Italy because of her Jewish background.
More info
Nonfiction about Italy under Mussolini:
Mussolini: The Rise and Fall of Il Duce
by Christopher Hibbert (1962, 2008).
More info
Mussolini's Italy: Life Under the Fascist Dictatorship, 1915-1945
by R.J.B. Bosworth (2006).
More info
Fascist Voices: An Intimate History of Mussolini's Italy
by Christopher Duggan (2012).
More info
Online:
Life in Fascist Italy
at the History Learning Site
Back to Novels of WWII Europe, the Home Front
Back to Directory of Book Reviews