The Turncoat

by Donna Thorland

Reviewed by Margaret Donsbach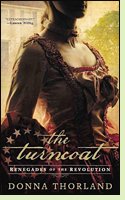 The Turncoat is about a Quaker whose decision to spy for the American Revolutionaries plunges her into a world of fashion, sex and violence. Dramatic to the point of melodrama, it will have some readers breathlessly turning pages, others rolling their eyes. The story was inspired by real-life spy Lydia Barrington Darragh, a Philadelphia Quaker who overheard British plans for an attack on Washington's army in 1777 and walked twelve miles through December snow to warn the Patriots. Quakers were pacifists whose democratic convictions aligned them with the Revolutionaries. Most were officially neutral but some, like Darragh's eldest son, fought for the Patriots.
Darragh was a 49-year-old wife who did her spying from home. The fictional Kate is a young, unmarried woman who sheds her plain Quaker garb for aristocratic satins to begin a risky dance of seduction and evasion that places her in circles where she can learn British war plans. Along the way, skirts are gathered into froths about hips, men speak in tones of desperate recklessness, and Kate is advised that "there is no room for sentiment" in spying.
But Kate has fallen in love with a British officer. Can she put love of country over her physical and emotional yearning for him - especially when her work requires her to pretend she loves another man, one with monstrous tastes? Equal parts thriller and highly spiced romance, The Turncoat includes explicit sex scenes charged with the threat of violence. Readers inured to the extreme bloodshed in many movies and television shows will find the violent scenes in this novel fairly mild. When characters are tortured for information, it is mostly offstage, though sometimes only in the next room. The novel's central message seems to be that in a violent world it is foolhardy to stick to pacifist principles. By that standard, Kate's transformation might be called a grimly satisfying triumph. Readers who hew to other standards may find it part of a disturbing trend. (2013; 424 pages, including an Author's Note discussing the history behind the novel, a bibliography, an interview with the author, and discussion questions for book groups)
More about The Turncoat at Powell's Books
or
Amazon.com
Other novels featuring Quaker characters:
The Friendly Persuasion
by Jessamyn West (1945), a collection of short stories about a Quaker family in Indiana during the Civil War.
More info
The Lady's Slipper
by Deborah Swift (2010), about a woman who steals a rare lady's slipper orchid from a Quaker's property in 1660, setting off a deadly chain of events. See
review
or
more info at Powell's Books
The Peaceable Kingdom
by Jan de Hartog (1972), about the seventeenth-century Quaker migration to America.
More info
Nonfiction about spies and Quakers during the American Revolution:
Washington's Spies: The Story of America's First Spy Ring
by Alexander Rose (2006).
More info
Invisible Ink: Spycraft of the American Revolution
by John A. Nagy (2009).
More info
Relation of the Quakers to the American Revolution
by Arthur J. Mekeel (1982).
More info
At the Movies:
Friendly Persuasion
, the 1956 film adaptation of Jessamyn West's novel, starring Gary Cooper and Dorothy McGuire.
Online:
Lydia Barrington Darragh
, a short biography at the National Women's History Museum website
Back to Novels of the Eighteenth Century
Back to Directory of Book Reviews