The Tudor Secret
by C.W. Gortner
Reviewed by Margaret Donsbach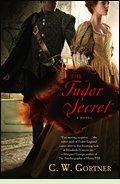 The Tudor Secret revives a plot device that hasn't seen much use lately: the orphan with a distinctive birthmark and mysterious ancestry. Brendan Prescott has been raised with the bullying sons of John Dudley, the Duke of Northumberland. Grown now, he travels to London to become Robert Dudley's squire as rumors swirl over the boy-king Edward VI's health.
Northumberland heads the powerful Regency Council and is in a position to influence the succession. With no male heir, Edward's Catholic half-sister, Mary, and then his Protestant half-sister, Elizabeth, would be next in line to the throne, if their father's marital adventures did not cast shadows of illegitimacy over each, depending on which mother is deemed to have been properly married.
Young Brendan rides into a stew of intrigue on the day Princess Elizabeth herself arrives in London. "The first thing I noticed was that she was not beautiful. . . . Then I met her stare. Her eyes were fathomless, overwide pupils limning her gold irises, like twin suns in eclipse. . . . She had the eyes of a lion." Like most of London, Brendan is drawn to her royal aura, though Northumberland's schemes lead elsewhere. Then a summons arrives from another schemer, Elizabeth's champion William Cecil, who makes Brendan a compelling offer. Without fully understanding his mission, Brendan becomes a spy, unsure on precisely whose behalf he is working, though he pledges his loyalty to Elizabeth - and falls in love with one of her serving women.
The plot is intricate, and characters often catch the meaning of veiled hints that may leave readers still guessing. But it's not necessary to follow every twist, turn and doublecross in order to enjoy the story. Brendan dances on a knife-edge of peril as he comes tantalizingly closer to discovering the secret of his birth. Though Brendan is entirely fictional, The Tudor Secret serves up a dark, plausible theory about Edward's death and Jane Grey's nine days as queen. (2011; 327 pages, including an Author's Note separating fact from fiction)
More about The Tudor Secret at Powell's Books or Amazon.com
Interview with author C.W. Gortner

Other novels about the intrigue surrounding Edward VI's death:
Young Bess by Margaret Irwin (1944), about Princess Elizabeth during the years leading up to Edward's death. Review or more info at Powell's Books
Innocent Traitor by Alison Weir (2007), about Jane Grey and her reign of nine days as Queen of England. More info
Five Gold Rings by Philippa Wiat (1983), about Jane Grey's younger sister Katherine, who married Edward Seymour without royal consent. More info

Nonfiction about England before Elizabeth came to the throne:
Edward VI by Jennifer Loach (1999); covers the regency political struggles in detail. More info
Elizabeth: The Struggle for the Throne (titled Elizabeth: Apprenticeship in the U.K.) by David Starkey (2001); detailed and readable, with superb color illustrations. More info
The Uncrowned Kings of England: The Black History of the Dudleys and the Tudor Throne by Derek Wilson (2005). More info

Online:
King Edward VI at EnglishHistory.net



Back to Novels of the Renaissance

Back to Directory of Book Reviews