The Trees
by Conrad Richter
Reviewed by Margaret Donsbach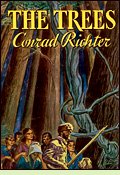 The Trees is the first in a trilogy about the transformation of the American landscape as settlers moved westward. Sayward Luckett is fifteen as The Trees begins, her family following her itchy-footed father into unsettled country. Reaching the crest of a ridge, they find a view spread out below: "It was a sea of solid tree-tops broken only by some gash where deep beneath the foliage an unknown stream made its way. As far as the eye could reach, this lonely forest sea rolled on and on till its faint blue billows broke against an incredibly distant horizon.... Sayward saw her mother's eyes search with the hope of finding some settlement or leastwise a settler's clearing. But over that vasty solitude no wisp of smoke arose."
As Sayward and her family descend and begin making a home of sorts, Richter brings readers right into the woods with them. We feel the father's restless energy, erecting log walls at an almost frenzied pace and then, roofless cabin half finished, trading axe for rifle and disappearing into the trees to return only at dusk, day after day, with "a skin or two wrapped around the choicest parts of the carcass." We feel the ailing mother's despair. "She had had her say and what good did it do her? The time to have set herself against this place was away back in the old state..." We feel the children's delight, swinging on vines "back and forward over logs that would have broken their backs had they ever let go."
Weathering hardship and tragedy, Sayward learns a taciturn, compassionate wisdom. As other settlers filter into the area, she changes and the land changes. Lush in description, spare in judgment, Richter leaves us room to mourn the passing of the American wilderness even as we sympathize with the pioneer women's ache for civilization and its comforts - family and friends most of all. (1940; 154-175 pages in various editions)
More about The Trees at Powell's Books or Amazon.com

Other novels about the westward movement:
Honey in the Horn by H.L. Davis (1935), about settlers on the Oregon frontier in the early twentieth century. More info
The Way West by A.B. Guthrie, Jr. (1949), about a wagon train traveling west in 1846. More info
Angle of Repose by Wallace Stegner (1971), about a retired historian's research into his grandparents' hard lives and enduring marriage as settlers in Grass Valley, California. More info

Nonfiction about the westward movement and the transformation of the American landscape:
American Grit: A Woman's Letters from the Ohio Frontier edited by Emily Foster (2003). More info
Trans-Appalachian Frontier: People, Societies and Institutions, 1775-1850 by Malcolm J. Rohrbough (1978). More info
From Coastal Wilderness to Fruited Plain: A History of Environmental Change in Temperate North America from 1500 to the Present by Gordon G. Whitney (1994). More info

At the Movies:
The Awakening Land
, a 1978 mini-series based on the trilogy beginning with The Trees, starring Hal Holbrook and Elizabeth Montgomery.

Online:
Early Settlement west and north of the Ohio River, a historical perspective at the Wayne National Forest website.



Back to Novels of the American Old West

Back to Directory of Book Reviews