The Traitor's Wife
by Susan Higginbotham
Reviewed by Margaret Donsbach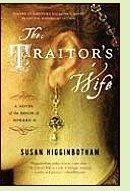 In The Traitor's Wife, the compassionate but naive Eleanor de Clare guides us through the tempestuous story of England during the reign of her uncle King Edward II and the early years of his son Edward III's reign. Eleanor married Hugh le Despenser, who after the demise of King Edward II's homosexual lover Piers Gaveston became his next favorite and a recipient of his largesse. When Queen Isabella and Roger Mortimer wrested control from Edward to rule in the name of his teenaged son, they put Hugh to death as a traitor and imprisoned Eleanor and her children.
The affection between Eleanor and her uncle pervades The Traitor's Wife: "Edward was with his gardener when Eleanor found him. After he gave the man very precise instructions about some rose bushes—for Edward had very definite ideas about what the royal gardens should look like and would not have found life at all amiss if he had been born a gardener instead of a king—he turned to his young niece with his usual sweet smile." Higginbotham portrays Edward II and Piers Gaveston with great sympathy, though without glossing over Edward's failings as a king. Isabella, stunningly beautiful at twelve when she marries the king, is a spoiled, snappish young woman and a vicious, oversexed mature woman. Upon her arrival in England, even Eleanor's beautiful sister experiences "a sense of diminishment."
Higginbotham's meticulous research leads to an information overload in the first half of the novel where it seems as though every marriage, death and change of residence in the characters' extended families is given a paragraph. Midway through, however, the dramatic events of Isabella and Mortimer's cout d'etat convert The Traitor's Wife into a page-turner. In prison, Eleanor struggles not only with the harsh conditions of her confinement and the knowledge that her husband and eldest son are in dire peril, but with decisions that are both risky and morally challenging. (new Sourcebook edition published 2009, 490 pages including an Afterword separating history from fiction)
More about The Traitor's Wife at Powell's Books
Interview with Susan Higginbotham

Other novels about the reign of Edward II:
The Follies of the King by Jean Plaidy (1980), about Edward II and Isabella; #8 in the Plantagenet series. More info
Gaveston by Chris Hunt (1992), about the love affair between Edward II and Piers Gaveston. More info
Isabella and the Strange Death of Edward II by Paul Doherty (2003), about Queen Isabella. More info
Harlot Queen by Hilda Lewis (1970), about Queen Isabella. More info
Queen of Shadows by Edna Felber (2006), a sympathetic novel about Queen Isabella. More info

Nonfiction about the reigns of Edward II and Edward III:
King Edward II: Edward of Caernarfon, His Life, His Reign and Its Aftermath, 1284-1330 by Roy Martin Haines (2003). More info
Queen Isabella: Treachery, Adultery and Murder in Medieval England by Alison Weir (2005). More info
Piers Gaveston: Edward II's Adoptive Brother by Pierre Chaplais (1994). More info
The Greatest Traitor: The Life of Sir Roger Mortimer, Ruler of England, 1327-1330 by Ian Mortimer (2006). More info

Edward II at the movies:
Derek Jarman's 1991 film Edward II
, based on Christopher Marlowe's play about Edward II.

Online:
Author Susan Higginbotham's annotated list of novels about King Edward II and Queen Isabella, Edward II in Fiction



Back to Medieval: 14th-15th Centuries

Back to Directory of Book Reviews