To Defy a King
by Elizabeth Chadwick
Reviewed by Margaret Donsbach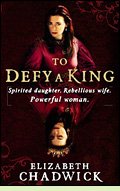 To Defy a King looks at the reign of King John of England from the perspective of a younger generation of the Marshal family than in Chadwick's earlier novel The Scarlet Lion. Set in the same general time period and driven by many of the same events of John's reign, it succeeds in being a quite different novel, gripping even for readers familiar with the The Scarlet Lion.
Mahelt is the eldest daughter of William Marshal, Marshal of England for Henry II, Richard the Lionheart, and now King John. Though she has been cherished and indulged, she, like every daughter of the nobility, has a value beyond her intrinsic value as a loved child. Her marriage to Hugh Bigod, the son of the wealthy and influential Earl of Norfolk, is expected to help cement the Marshal family's influence and position, and to maintain it in the next generation.
One of this novel's great strengths is its freshness and realism. Though spirited and determined, Mahelt is no twenty-first-century girl in medieval clothing. She accepts her role in linking two powerful families, well aware of its importance. Unlike her own family, however, the Bigods insulate women from politics and expect their unquestioning obedience. With her keen mind and an understanding of political affairs gleaned from both her parents as well as her own experience, Mahelt begins to realize as she matures that it is not only unfair to exclude her, it may be hazardous, especially when King John's greedy and suspicious nature begins to endanger not only the Marshal family but the Bigods.
With vivid immediacy, To Defy a King tells a story of politics in the vicious era leading to the Magna Carta, which is also a moving and sexy love story and, above all, the story of a woman who refused to tolerate demeaning and abusive treatment - even from her king - in a time when many women simply accepted it as their lot. (2011; 519 pages, including an Author's Note about the history behind the story, a Select Bibliography, and an Author Interview)
More about To Defy a King at Powell's Books or Amazon.com

Other novels about the nobility in the time of King John:
The Scarlet Lion by Elizabeth Chadwick (2006), about Mahelt's parents during the same general time period covered in To Defy a King. See review or more info at Powell's Books
Lady of Hay by Barbara Erskine (1986), about a modern woman who under hypnotic past-life regression, remembers a life as Matilda de Braose in King John's time. See review or more info at Powell's Books
Leopards and Lilies by Alfred Duggan (1954), about a young widow forced to marry a man she doesn't care for. More info at Amazon.com

Nonfiction about the Marshal and Bigod families and King John:
The Bigod Earls of Norfolk in the Thirteenth Century by Marc Morris (2005). More info
William Marshal: Knighthood, War and Chivalry, 1147-1219 by David Crouch (2002). More info
King John: New Interpretations by S.D. Church (1999). More info

Online:
Article about Maud Marshal (also called Matilda or Mahelt Marshal) at Wikipedia



Back to Medieval: The Angevins

Back to Directory of Book Reviews