To Be Queen
by Christy English
Reviewed by Margaret Donsbach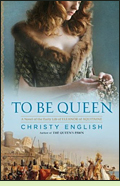 To Be Queen, a prequel to The Queen's Pawn, picks up Eleanor of Aquitaine's story when she is ten and carries it through the annulment of her marriage to Louis VII of France when she is twenty-five. Not all readers will warm to young Alienor, as Eleanor was named in the langue d'oc, the language of her sunny, southern French homeland. Given what we know of the iron-willed woman reflected in the historical record, the novel's portrait of a keenly intelligent, self-assured and determined child with a sense of grievance against the world seems more plausible than a cozily sympathetic portrayal would be.
"I, too, would become a bird of prey," Alienor reflects, training her first falcon. "One must, to be queen." Her only brother died young, so from childhood, she is groomed to become heir to her father, the Duke of Aquitaine: charming, aware of her subjects' needs and protective of them, but politically shrewd and even ruthless when expedience demands it. She memorizes the names of her father's spies, "secret, even one member from another, but I knew them all." She wants more, though, than to be duchess. Married at fifteen to the priest-ridden, piously cowed Louis, immured in a dank, dirty castle in Paris where subservience and ignorance are expected of women, her refrain becomes "A woman must tear out her heart to be queen." Still, she tears it out with a will.
While To Be Queen is a novel of a woman's political ambition, it also shows Eleanor mellowing as she gains experience. She feels tenderness for Louis even while she manipulates him and despises his inadequacies. For the few men who spark her passion she is capable of intense love, even to the point of jeopardizing her position. When Henry of Anjou, the future Henry II of England, shows up in the closing chapters, ambition and passion unite in a love scene as hot as much of the novel is chilly. (2011; 380 pages, including an Afterword about Eleanor's later life)
More about To Be Queen at Powell's Books or Amazon.com

Other novels about Eleanor of Aquitaine:
The Queen's Pawn by Christy English (2010), about the rivalry that develops between Eleanor as a grown woman with Princess Alais of France, the intended bride of Eleanor's son Richard. More info
The Secret Eleanor by Cecelia Holland (2010), about the end of Eleanor's marriage to Louis VII of France after she meets Henry of Anjou. Review or More info at Powell's Books
Time and Chance by Sharon Kay Penman (2002), about the marriage of Eleanor and Henry; #2 in the Eleanor of Aquitaine series. More info

Nonfiction about Eleanor of Aquitaine:
Eleanor of Aquitaine: A Biography by Marion Meade (1976), written by a journalist. More info
Eleanor of Aquitaine: A Life by Alison Weir (1999), a popular biography by an author of fiction and nonfiction. More info
Eleanor of Aquitaine: Lord and Lady, edited by Bonnie Wheeler and John C. Parsons (2002), a collection of scholarly essays. More info

At the Movies:
The Lion in Winter
, the Academy Award-winning 1968 film starring Katherine Hepburn as Eleanor and Peter O'Toole as Henry. Highly recommended.

Online:
The History of the Languedoc: Occitan, Occitania and the Troubadours about the language Alienor (Eleanor) grew up with, at www.languedoc-france.info



Back to Medieval: The Angevins

Back to Directory of Book Reviews