Three's Company

by Alfred Duggan

Reviewed by David Maclaine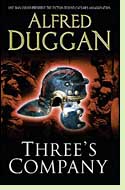 Three's Company is the name of the lightweight TV comedy that launched John Ritter's career and, in the late '70s and early '80s, made Suzanne Somers a household name. This isn't that Three's Company. This is the historical novel by Alfred Duggan, published two decades earlier, about the third member of ancient Rome's second triumvirate, Marcus Aemilius Lepidus. He's like the one of Snow White's dwarfs whose name you can never remember. Let's see, there's Octavius Caesar (later Augustus), Mark Antony and … who was that again? But if you read this novel, and you'll always remember Lepidus. Duggan provides an inside look at the strange career of the man who at one time shared rule over the Roman world with the other guys we remember so well.
Alfred Duggan had a penchant for characters who are somehow at the fringe even when they're in the middle of great events. No one fits that bill better than Lepidus. A Roman from a distinguished, if not exactly brilliant, family, he aspires only to achieve the same honors and offices as his ancestors. But when Caesar marches on Rome, Lepidus makes a snap decision to head back to the city instead of fleeing the rebellion. He slides into the role of the man who represents traditional Roman values while working with the men who are shattering the Roman state. He maintains this odd position in the turmoil after the assassination and finds himself enlisted to be the buffer between Octavius and Antony. Fortune seems to shine until he stands on the brink of supreme power. You know how that ends: we look forward to a sunny August, not a pleasant Lepid. Three's Company portrays an amiable man of no special talents, thrust by accident and his family name into a position of power. He convinces himself he knows what he's doing, but we know better. We've seen this story before, quite recently, though never so charmingly told. (1958, 286 pages)
More about Three's Company at Amazon.com
or
The Book Depository
Three's Company
appears on the list of
The 50 Best Historical Novels for a Survey of Ancient Roman History
Other novels about the period after Julius Caesar's death:
Antony
by Allan Massie (1997), about Mark Antony, one of the assassins of Julius Caesar, and his struggle with Octavian for leadership in Rome after Caesar's death.
More info
Antony and Cleopatra
by Colleen McCullough (2007), about Cleopatra's scheme to make her son emperor of Rome in the wake of Julius Caesar's death; #7 in the
Masters of Rome series
. See
review
or
more info at Powell's Books
Augustus
by John Williams (1972), about Augustus and his rise to power.
More info
Nonfiction about the Second Triumvirate:
The Age of Augustus
by Werner Eck (2002).
More info
Augustus and the Creation of the Roman Empire
by Ronald Mellor (2005).
More info
The Roman Revolution
by Ronald Syme (1939), about the fall of the Roman Republic and the rise of Augustus.
More info
Online:
Second Triumvirate
at the UNRV History website
Back to Novels of Ancient History
Back to Directory of Book Reviews