Those Who Save Us
By Jenna Blum
Reviewed by Susan Gillmor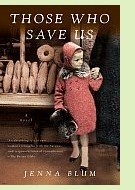 Jenna Blum's debut novel Those Who Save Us is the intimate story, almost as personal in tone as a memoir, of a young German Christian woman who survives through unspeakable means the harrowing conditions in Weimar during World War II. Anna wraps her history in stony silence through the ensuing half century, her secrets (and her shame) kept even from the American G.I. who marries her, adopts her young daughter, and transports them both to Minnesota at the end of the war.
Anna's secrets outlive her husband but unravel when her daughter Trudy, now a professor of German history in her mid-50s, feels driven to collect oral histories from German survivors of the war. Trudy's own memories begin to break through a well-protected facade, fueled by a sepia-toned photograph of an SS officer posed with her mother and herself as a toddler. The communal German guilt, so common to the wartime generation of 'Aryan' Germans, is a complex legacy for the offspring of these stoic survivors.
But Trudy is also American. A cynical German friend calls her the product of "a young and childish country, believing that one can better understand the injuries of the past by wallowing in them and analyzing their causes." Trudy faces her fears the modern way. What she learns will alter her view of her mother and her world.
Anna's story, beginning in 1939, is deeply personal, delivered in well-timed chapters interspersed with contemporary events in the lives of Anna and Trudy. Blum's characters are alive; she compels us to care about them and turn pages quickly to discover what happens to them next. Those Who Save Us stretches the novel form: it is memoir, mystery, thriller, tragedy, adventure story. It explores and blurs the lines between past and present, right and wrong, love and hate. At its core it is a story of ordinary human beings doing what they must to survive and save those they love most. (2005, 496 pp.)
More about Those Who Save Us from Powell's Books

Other novels about Germans during World War II:
Winter: A Novel of a Berlin Family by Len Deighton (1987), about two brothers with distinguished military careers who react in opposite ways to the rise of Hitler. More info
Saints and Villains by Denise Giardina (1999), about Dietrich Bonhoeffer, a German theologian involved in a plot to assassinate Hitler. More info
Stones from the River by Ursula Hegi (1994), about a girl who is a dwarf and her childhood during the Nazi years and World War II. More info

Nonfiction about German women during and in the aftermath of World War II:
Berlin Diaries, 1940-1945 by Marie Vassiltchikov (1988), the diary of a Russian emigrée who lived and worked in Germany during World War II and its aftermath. More info
A Woman in Berlin: Eight Weeks in the Conquered City (1954) by an anonymous German woman about her struggle to survive at the end of World War II. More info
Memoirs of a 1000-Year-Old Woman: Berlin 1925-1945 by Gisela R. McBride (2000) (also titled Through My Eyes), about the author's life growing up in Berlin during the years before and during World War II. More info



Back to Historical Novels of World War II

Back to Directory of Book Reviews