Thorn in My Heart
by Liz Curtis Higgs
Reviewed by Margaret Donsbach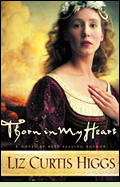 A Christian-themed love story with maturity and depth, Thorn in My Heart retells the story of Jacob, Leah and Rachel in an eighteenth-century Scottish setting. According to the Old Testament story in Genesis, Jacob stole his elder twin's birthright by deceiving his father, then had to flee his twin's wrath. On the journey to his uncle, whom he hoped would give him both shelter and a wife, Jacob was blessed with a dream of angels and a prophecy: "the land whereon thou liest, to thee will I give it, and to thy seed..." In his uncle's house, Jacob labors seven years to win for his bride his beautiful cousin Rachel, only to be tricked into marrying Leah, her elder sister.
The story translates surprisingly well to strait-laced Protestant Scotland. The new setting demands enough change in the pattern of the story to make it fresh and suspenseful. If the shift also means some of the events stretch credibility, the characters are emotionally complex enough to carry readers along without stretching things to the breaking point.
In a classic love triangle, but one with many twists, Jamie arrives on his uncle's land and is promptly smitten with vivacious, dark-haired Rose, "a creature as lovely as her name," but at fifteen reluctant to wed. Rose's elder sister Leana is plain, with "colorless" hair, "grayish blue [eyes], which nigh to vanished in a certain light" and a "full but wan smile." She is, however, woman enough to fall deeply in love with Jamie.
The least sympathetic characters are the parents: Jamie's mother concocts the scheme to trick his father; the young women's miserly father uses religion to manipulate and control them. But Thorn in My Heart is ultimately about people learning to take responsibility for their own actions, even if others pushed, cajoled or threatened them into bad behavior. It is also about the mystery of grace, suggesting that even the characters's sins can become the instruments of blessing. (2003; 484 pages, including an Author's Note discussing the historical setting, and a Scots Glossary of the many dialect terms used in the narrative)
More about Thorn in My Heart at Powell's Books or Amazon.com

Other Christian-themed love stories:
Fair is the Rose by Liz Curtis Higgs (2004), sequel to Thorn in My Heart. More info
A Heart Most Worthy by Siri Mitchell (2011), about an Italian immigrant in early twentieth-century Boston who takes work sewing gowns for wealthy women and meets a client's son. More info
Afton of Margate Castle by Angela Elwell Hunt (1993), about a medieval peasant girl raised in a castle who falls in love with the lord's son; #1 in the Theyn Chronicles series. More info

Nonfiction about Scottish history:
Scotland in the Eighteenth Century by David W. Allan (2001). More info
The Culture of Protestantism in Early Modern Scotland by Margo Todd (2002). More info
Lairds and Luxury: The Highland Gentry in Eighteenth-Century Scotland by Stana Nenadic (2007). More info

Online:
The Story of Jacob at www.Sacred-Texts.com



Back to Novels of the Eighteenth Century

Back to Directory of Book Reviews