The Thirty-One Kings
by Robert Harris
Reviewed by Margaret Tomlinson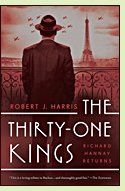 The Thirty-One Kings is a pastiche of Scottish-born writer John Buchan's "Richard Hannay" thrillers, the best-known being The Thirty-Nine Steps, which Alfred Hitchcock famously (and very loosely) adapted for his 1935 movie of the same title. Buchan's five Hannay novels were set during and shortly after World War I. Harris's novel reintroduces Hannay in early World War II as the Nazi army bears down on Paris. 
Hannay has settled in Scotland with his wife, but with the outbreak of war, itches to serve his country despite an apparent lack of interest from the present government. Then a Tiger Moth biplane crashes almost in his path; Hannay pulls the pilot out before the plane explodes, but the man can only gasp out a few phrases before dying. His last words are "Find the thirty-one kings." Accompanied by his resourceful wife, Hannay sets off on this urgent and obscure mission, evading assassination attempts on the way, and meeting up in London with old friends from the Buchan novels before setting off for a Continent crawling with enemies.
The straightforward, semi-hard-boiled style of The Thirty-One Kings makes for quick reading and doesn't burden the reader with complex philosophical questions. Although the characters fleetingly grapple with some inner struggles involving femme fatales, the morality of suicide, and killing in self-defense, the story doesn't linger on feelings of grief or moral quandary: a sentence or two presents the conventional emotion, and we're off again, escaping whatever new danger threatens. Hannay and his wise-cracking friends race across Europe on speed-demon motorcycles, in rickety RAF planes and snazzy Peugeot motorcars, and limping on foot. The author slips up a bit with an American character whose slang is too British, and a couple of Hannay's frequent narrow escapes are too deus-ex-machina to feel really satisfying. All-in-all, though, it's an easy, fun read, tailor-made for a Hollywood movie or an evening in your favorite easy chair. (2018, 212 pages)
More about The Thirty-One Kings at Powell's Books
or
The Book Depository
Other historical mysteries with numbers in the titles:
The Thirty-Nine Steps
by John Buchan (1915), about a Scot who returns from South Africa in 1914 and settles in London, where a strange American asks for his help in escaping a group of anarchists he claims want to kill him and assassinate the Greek Premier; #1 of 5 novels in Buchan's Richard Hannay series (not a true historical novel, since it was contemporary when written).
More info
Five Dead Canaries
by Edward Marston (2013), about two British police detectives during WWI who investigate the deaths of five "canaries" - female munition workers whose job makes their skin turn yellow - in a bomb blast; #3 in the Home Front mystery series.
More info
The Ninth Daughter
by Barbara Hamilton (2009), a mystery set in 1773 in which Abigail Adams (not yet First Lady) turns sleuth when she stumbles across a woman's corpse and her husband is accused of murdering the woman; #1 in the Abigail Adams mystery series.
More info
Nonfiction about WWII:
The Secret History of World War II: Spies, Code Breakers, and Covert Operations
by Neil Kagan and Stephen G. Hyslop (2016).
More info
Top Secret Tales of World War II
by William B. Breuer (2000).
More info
Ghost Soldiers: The Epic Account of World War II's Greatest Rescue Mission
by Hampton Sides (2001).
More info
At the Movies:
The 39 Steps
, the 1935 film by Alfred Hitchcock, starring Robert Donat and Madeleine Carroll. Orson Welles considered this film a masterpiece.
Online:
World War II Fast Facts
at the CNN website
Back to Directory of Book Reviews