The Sunne in Splendour
by Sharon Kay Penman
Reviewed by Margaret Donsbach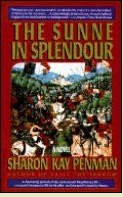 The Sunne in Splendour is a political story that, first and foremost, is intensely human. It is about two Yorkist kings of England, Edward IV and his much maligned brother Richard III. The title refers to Edward's battle flag, and the novel begins in 1459, a year of vicious fighting in the Wars of the Roses, waged between the Lancaster and York descendants of Edward III. The feeble-minded Lancastrian Henry VI had essentially ceded the rule to his hated French wife, Margaret of Anjou, whom Penman's novel does nothing to rehabilitate. Instead, the focus is on intimate, deeply sympathetic portraits of Edward and Richard of York.
Edward has an instinct for the gracious gesture. Among the London crowds who greet him as their deliverer is a young girl. "For an instant, their fingers touched and then he held her gift aloft, a scarf of bright bold colors, upon which had been stitched, with incredible patience and perseverance, a blazing sun on a field of white roses. Edward now brandished the scarf for all to see, and then, to the wild cheering of the crowd, he knotted it about his throat so that it caught the breeze, fluttered out jauntily behind him." Ironically, his great mistake was his choice of wife, the stunningly beautiful but politically tone-deaf Elizabeth Woodville, whose large, ambitious family did nothing to enhance the stability of Edward's government.
Richard, however, is the center of The Sunne in Splendour. From his childish decision to accept responsibility for a misdeed of his adored elder brother until his death on the battlefield, Penman portrays him as a caring, loyal and thoughtful figure with great nobility of spirit. The love story of Richard and his queen is tender and moving. Needless to say, Penman offers an alternative to the tale of the "Princes in the Tower" whom Richard is supposed to have murdered. A brief historical note summarizes the evidence for her theory. (1982, 936 pages)
The Sunne in Splendour appears on my list of The Ten Best Historical Novels I Read in 2008.
More info on The Sunne in Splendour from Powell's Books

Other novels about the Richard III:
We Speak No Treason by Rosemary Hawley Jarman. More info
A Rose for the Crown by Anne Easter Smith. More info
The Seventh Son by Reay Tannahill. More info
More novels about Richard III are listed under the Daughter of Time review.


Novels about other important figures of the period:
The Red Rose of Anjou by Jean Plaidy, a sympathetic novel about Margaret of Anjou.
The Sun in Splendour by Jean Plaidy, about Edward IV and Elizabeth Woodville.
The King's Grey Mare by Rosemary Hawley Jarman, about Edward and Elizabeth Woodville. More info
Daughter of York by Anne Easter Smith, about Richard's sister Margaret, who married Charles of Burgundy. More info

Nonfiction about the Wars of the Roses and Richard III:
Blood and Roses: One Family's Struggle and Triumph During the Tumultuous Wars of the Roses by Helen Castor. More info
A Brief History of the Wars of the Roses by Desmond Seward. More info
The Wars of the Roses by Alison Weir. More info
Richard the Third by Paul Murray Kendall. More info

Online:
A survey of fiction about Richard III and the Wars of the Roses at the Richard III Society website



Back to Novels of Medieval Europe

Back to Directory of Book Reviews