The Good Earth
by Pearl S. Buck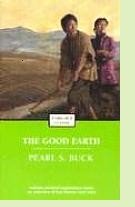 The Good Earth was the second novel written by Pearl Buck, a daughter of Presbyterian missionaries, who grew up in China during the 1890s and early twentieth century. The novel is about Wang Lung, a poor but ambitious Chinese farmer in a small village. It begins on the day of his marriage to a former slave of wealthy landowners. "He saw that it was true there was not beauty of any kind in her face—a brown, common, patient face. But there were no pock-marks on her dark skin, nor was her lip split." Through good times and bad, Wang Lung's most abiding passion is for his land. "Then the good land did again its healing work and the sun shone on him and healed him and the warm winds of summer wrapped him about with peace."
Buck's prose has a rhythm and simplicity reminiscent of Wang Lung's steady labor with rake, hoe and plow. Its measured, almost formal tone tends to observe rather than participate in his emotions, so that the reader often feels a stronger sympathy with the women in his life, and especially with his plain, hard-working wife, than with Wang Lung himself. Still, as he gains maturity through the desperate challenges life sets in his path, he earns the reader's respect. (1931, modern editions vary from about 260 to 450 pages)
This is on my list of The Ten Best Historical Novels I Read in 2008.
More info on The Good Earth from Powell's Books

Also set in pre-revolutionary China:
Spring Moon by Bette Bao Lord, about an aristocratic family More info

Women of the Silk by Gail Tsukiyama, about a fisherman's daughter sent to work in a silk factory More info

Related nonfiction:
Pearl S. Buck: A Cultural Biography by Peter Conn More info

Women and the Family in Chinese History by Patricia Buckley Ebrey More info



Back to Historical Novels of Asia

Back to Directory of Book Reviews