Tenacious
by Julian Stockwin

Reviewed by David Maclaine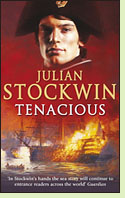 Tenacious brings to the half-dozen mark Julian Stockwin's Kydd series, which begins earlier in the French-English war than those written by his great predecessors, C.S. Forester and Patrick O'Brian. Here Stockwin begins to gather the fruits of that decision. The title is the name of the ship of the line on which his protagonist Thomas Paine Kydd serves as fifth lieutenant. In this installment, it carries him back across the Atlantic from America to join a squadron headed by the most illustrious name in British naval history: Admiral Horatio Nelson. Under the command of the already-famous admiral, Kydd is caught in Nelson's complex maneuvering to bring to battle the French fleet based in Toulon. The task is made especially difficult by deep uncertainty about the enemy's intentions, and by the surprising difficulty of tracking down a fleet once it has escaped into the Mediterranean. Frustration follows frustration, and the reader is drawn into the day-by-day bafflement of the participants in what those who know their history will recognize as a campaign of world-changing significance.
The rich action of this novel includes more than an explosive meeting at the mouth of the Nile. Kydd's role as signal lieutenant draws him into covert action ashore during an attack on Minorca; on another shore he meets both his sister and the notorious Lady Hamilton. The novel's climax comes during yet another mission on land, in defense of the historic port of Acre, which Napoleon must capture if he is to salvage his eastern adventure. Tenacious seesaws between keen suspense and intense action as the novel's hero faces fresh challenges that provide the reader with fresh delights. Among those delights must rank Stockwin's finely sketched description of England's greatest naval hero from the viewpoint of a fictional hero whose own stature rises with each volume in this fine series. (2005, 336 pages)
More about Tenacious at Powell's Books
or
Amazon.com
Other novels in which Admiral Nelson appears:
On a Making Tide
by David Donachie (2000), about the early years of Nelson and his future mistress; #1 in the Nelson and Emma trilogy.
More info
A Game For Empires
by Pearl Frye (1950), a biographical novel about Nelson.
More info
Losing Nelson
by Barry Unsworth (1999), a humorous novel about a London man obsessed with Lord Nelson.
More info
Nonfiction about Admiral Nelson:
Nelson: The Sword of Albion
by John Sugden (2013).
More info
The Pursuit of Victory: The Life and Achievement of Horatio Nelson
by Roger Knight (2005).
More info
The Trafalgar Companion: The Complete Guide to History's Most Famous Sea Battle and the Life of Admiral Lord Nelson
by Mark Adkin (2005).
More info
Online:
The Nelson Society
, a website devoted to Admiral Nelson
Back to Novels of the Napoleonic Era
Back to Directory of Book Reviews