Tell Them of Battles, Kings and Elephants
by Mathias Énard
Reviewed by Margaret Tomlinson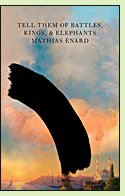 The title, Tell Them of Battles, Kings and Elephants, comes from a sentence by Kipling, suggesting the style and subject of this novel about travel and the creative process. In the early 1500s, the Turkish Sultan commissioned Michelangelo to design a bridge to cross Constantinople's Golden Horn. It must have been a daunting project. Though Michelangelo had gained fame for his David, he was still young, and a sculptor and painter, not an architect. He was a devout Christian invited to design a work in a Muslim city. And Leonardo da Vinci's previous design for this same bridge had been rejected. 

We know of this episode in Michelangelo's career only from a handful of fragmentary sources: two documents mentioning the Sultan's invitation, letters from Michelangelo to his brother, Michelangelo's drawings of the Hagia Sophia mosque, da Vinci's drawing of his bridge design, and Michelangelo's drawing of his own bridge design. 

Énard takes his cue from the nature of the sources, constructing his novel in fragmentary chapters the length of a paragraph, a page or two, several pages at most. He dashes off vivid sketches of settings that, to Michelangelo, are exotic and glorious ("Eighteen pillars of the most beautiful marble, serpentine tiles and porphyry inlays, four perfect arches that bear a vertiginous dome"); of flavor and scent ("the beef with dates, the stewed eggplant, the fowl with carob molasses"); of an androgynous dancer's thoughts ("I liked the way you observed me when I sang. The precision of your eyes, the delicacy of their desire."); and above all of the creative process, which involves so much looking, absorbing, waiting, seesawing between confidence and fear of failure ("And, more than anything, he loved drawing, the black wound of the ink, that caress scraping the grain of the paper.")

Tell Them of Battles, Kings and Elephants is a beautiful and haunting novel. (2010 in the original French, English translation 2018 by Charlotte Mandell; 144 pages including a Note on the history behind the novel)
More about Tell Them of Battles, Kings and Elephants at Powell's Books
or
The Book Depository
Other novels about Michelangelo:
Michelangelo the Florentine
by Sidney Alexander (1957), first in a trilogy of biographical novels about Michelangelo.
More info
The Agony and the Ecstasy
by Irving Stone, (1961), a biographical novel about Michelangelo.
More info
Oil and Marble
by Stephanie Storey (2016), about the rivalry between the young Michelangelo and Leonardo da Vinci, as they were creating their masterpieces, the David and the Mona Lisa.
More info
Nonfiction about Michelangelo:
Michelangelo: His Epic Life
by Martin Gayford (2015).
More info
Michelangelo: A Life in Six Masterpieces
, by Miles J. Unger (2014).
More info
Michelangelo: The Artist, the Man, and his Times
by William E. Wallace (2009).
More info
Online:
Michelangelo
at Wikipedia
Back to Novels of the Renaissance
Back to Directory of Book Reviews