A Tabernacle for the Sun
by Linda Proud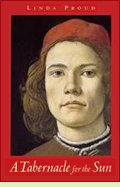 Linda Proud's novel of the Florentine Renaissace, A Tabernacle for the Sun, is a lively novel about philosophy, written in richly beautiful prose peppered with insights.
A boy grows up in the ancient hilltop city of Volterra, one of Florence's subject cities. Uncertain of his parentage, he knows his closest relatives are his Maffei uncle and cousins, whom he "looked in upon … as a leper peeps in through a squint in the church to a congregation which he may never join." His idols are, first, his passionately fair-minded cousin Antonio and, second, the de facto ruler of the Republic of Florence, Lorenzo de' Medici: "Tales of this young man (or glorious knight, in my imagination) came to us with the merchants bringing spices, rich cloth and paper from the distant city on the plain; tales of his wedding and the feast which had lasted a week, of his courage when he had saved his father from an ambush laid by rivals for power, of his generosity, benevolence and love of poetry…. Thus in my fancy Lorenzo de' Medici sometimes approached over the hills, dressed in gold brocade, his white horse draped in crimson, to enter our city, very soon afterwards to notice me and engage me at once as his squire."
Alas, a dispute over the distribution of profits from a mine leads to a Volterran revolt which Florence suppresses with such brutal violence that the boy's hero worship of Lorenzo turns to hatred. Only then, in an ironic and bittersweet form, does his fantasy materialize.
Besides the historic figures already named, those who come memorably to life in this novel include the sweetly philosophical Antonio degli Agli, the Bishop of Volterra; Lorenzo's doomed brother Giuliano; the artist Sandro Botticelli; the extraordinary Florentine beauty Simonetta Vespucci; a teenaged Leonardo da Vinci; and Lorenzo's tutor, the humanist philosopher Marsilio Ficino, who appears in person only briefly but shines like a beacon throughout. (originally published 1997; revised edition 2005, 490 pages)
This is on my list of The Ten Best Historical Novels I Read in 2008.

More info about A Tabernacle for the Sun from Godstow Press


Sequels to A Tabernacle for the Sun:
#2: Pallas and the Centaur. Review
#3: The Rebirth of Venus.

Nonfiction about historical characters in A Tabernacle for the Sun:

Sandro Botticelli:
Botticelli by Barbara Deimling (2000). More info

Botticelli: Life and Work by Ronald Lightbown (1997). More info

Botticelli by Frank Zöllner (2007). More info

Online: the lavishly illustrated Botticelli section at www.myrrhine.net

Lorenzo de' Medici and his family:

The House of Medici: Its Rise and Fall by Christopher Hibbert (1999). More

Magnifico: The Brilliant Life and Violent Times of Lorenzo de' Medici by Miles J. Unger (2008). More info

Marsilio Ficino:

The Planets Within: The Astrological Psychology of Marsilio Ficino by Thomas Moore (2000). More info

Friend to Mankind: Marsilio Ficino, 1433-1499 by Michael Shepherd, editor (1999). More info



Back to Novels of the Renaissance

Back to Directory of Book Reviews