Sword at Sunset
by Rosemary Sutcliff
Reviewed by Annis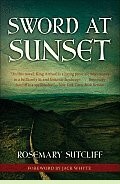 Sword at Sunset is a vision of the legendary King Arthur as the man he might really have been. Rosemary Sutcliff has created a compelling and memorable figure in Artos, a Romano-Celtic warrior prince who spends his life fighting to stem the tide of Saxon tribesmen who flood into Britain following the departure of the Roman army in the fifth century AD.
It's an elegiac tale, bittersweet and poignant. The bright purpose and fierce joys of comradeship and victory which fill Artos' early years on campaign with his cavalry warband are eroded away over time by betrayal, weariness of spirit and a sense of inevitable defeat. However Artos can't let go of his dream of a Britain united against the invaders. Taking a chance, he and his remaining Companions stake everything on one last, climactic battle.
Sutcliff draws inspiration from motifs central to Celtic mythology and, writing with an artist's eye for color and detail, lovingly illuminates the landscape of Britain, the country which is the very heart of all Artos' endeavours. (1963, reprinted 2008 with a foreword by Jack Whyte; 495 pages)
More about Sword at Sunset from Powell's Books, Amazon.com
or The Book Depository
Rosemary Sutcliff, Annis's overview of Sutcliff's work

Rosemary Sutcliff's "Eagle of the Ninth" trilogy, for young readers (and appreciated by many adults), which spans the centuries of Roman rule in Britain leading to the events in Sword at Sunset:
#1: The Eagle of the Ninth. See review or more info at Powell's Books
#2: The Silver Branch. More info
#3: The Lantern Bearers. More info

Other Arthurian novels featuring historical realism:
The Winter King by Bernard Cornwell (1995); #1 in the Warlord trilogy. More info
The Skystone by Jack Whyte (1992); #1 in the nine-volume Camulod Chronicles series. More info

Nonfiction about the evidence for the existence of an Arthur-like figure:
Arthur's Britain by Leslie Alcock (1971). More info
The Quest For Arthur's Britain by Geoffrey Ashe (1968). More info
King Arthur: Dark Age Warrior and Mythic Hero by John Matthews (2004). More info

Online:
Raymond H. Thompson's interview with Rosemary Sutcliff about her experience of writing Sword at Sunset: "It was almost like having the story fed through to me, at times."



Back to Novels of Ancient History

Back to Directory of Book Reviews