Susan Holloway Scott Interview
July 7, 2009
HistoricalNovels.info interviews
the author of The French Mistress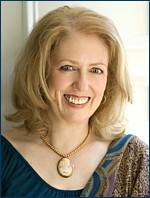 It was a pleasure to talk with Susan Holloway Scott on July 7, 2009, about The French Mistress, her novel about Louise de Keroualle. Louise was sent to England to spy for the French as the mistress of King Charles II. The novel is the fourth in a series about the Restoration king's mistresses.

What fascinated you so much about King Charles's Restoration court that you made it the setting of four novels?
The Restoration has much in common with other permissive eras that follow a repressive period. An entire generation of aristocratic children had grown into adulthood during the Civil War, and many who would once again form the ruling class were rootless, wild, and often undereducated. With Charles II's return to the throne, traditional morality went out the window. There was considerable experimentation, not only in sexual behavior, but also in theatre, science, art, and music, even in fashion. It's a fascinating time in which to set stories, looking forward to the humanist themes of the Age of Enlightenment, but still sufficiently medieval that traitors' severed heads rotted on pikes on London Bridge.

What was it like to write from Louise de Keroualle's point of view after seeing her through the eyes of her rivals Nell Gwyn and Barbara Villiers?
Louise was always an outsider at the English Court: she was French, she didn't speak English very well, she was Catholic, and everyone (including Charles) knew she'd been sent to act as Louis XIV's agent. The regimented Court at Versailles might have been another planet compared to the raucous, bawdy palace in London, and I enjoyed "seeing" the differences through Louise's eyes. How she made her way through its intrigues with such success is a testimony to her cleverness, and to the depth of her relationship with Charles. There's no doubt that she did love him (she remained faithful to his memory, though she outlived him by 50 years!), and on Charles's deathbed he declared that she was the one he'd always loved.

Can your fans look forward to another novel revolving around Charles II and his court?
My next heroine has already made her appearance in The King's Favorite as a ten-year-old girl, dancing jigs in the moonlight with Nell Gwyn. Catherine Sedley was the only daughter and heiress to the libertine poet Sir Charles Sedley, and grew into a scandalous lady. Though her fortune made her much desired as a bride, she refused to marry and let any man take control of her life. Instead she remained independent, becoming mistress to a king, wife to a general, and countess in her own right, remaining at the English court for nearly forty years and through five monarchs. Look for Catherine's adventurous story the summer of 2010 in The Countess and the King.


---


Review of The French Mistress by Susan Holloway Scott
See listing for The French Mistress at Powell's Books
See listing for The French Mistress at Amazon.com