Sunflowers
by Sheramy Bundrick
Reviewed by Margaret Donsbach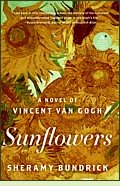 Art historian Sheramy Bundrick's first novel, Sunflowers, imagines a tender romance for Vincent van Gogh in his final two years. A brilliant, troubled artist who sold only one painting in his lifetime, van Gogh probably suffered from bipolar disorder. In 1888 while living in Arles, France, he presented a prostitute named Rachel with a bloody, severed portion of his left earlobe wrapped in newspaper. Of Rachel, little more is known, but five years before in The Hague, van Gogh had lived for a year with a prostitute and her children.
Sunflowers opens with Rachel's first meeting with van Gogh. Having fallen asleep under a tree in a park, she wakes to find herself an unwilling model. "The painter had drawn quickly with his black pencil, but the tangle of lines was me, mussed skirts, mussed hair, face restless in sleep under the cedar branches." Born into a respectable family but orphaned as a teen, she has slipped into prostitution since her rejection by a boy she loved and gave herself to. She remains essentially an innocent yearning for domestic happiness. The van Gogh in Sunflowers is a man who might offer it to her, except for his inexplicable bouts of mental illness.
The facts of van Gogh's tumultuous last years are all here, though some readers would find the story more plausible if the characters displayed more flaws and inner turmoil. Rachel and Vincent are sweetly understanding of each other, sweetly forgiving, and steadfastly faithful to each other in spirit despite the requirements of her profession. Readers who admire van Gogh's paintings but are uncomfortable with explicit sex and violence or emotions too raw for polite conversation should find Sunflowers restrained enough to suit them.
The real star is van Gogh's art. "Blazing sunflowers that should have looked forlorn and sad, plucked from the earth where they'd grown, trapped inside an earthenware jug. But they didn't. They writhed with life, the yellow so passionate, so untamed—oh, I wanted to touch the painting." (2009, 394 pages plus an Author's Note separating fact from fiction and extras like a guide to van Gogh's paintings and a bibliography)
More about Sunflowers at Powell's Books or Amazon.com
"Following van Gogh in Auvers-sur-Oise" by Sheramy Bundrick, an article about the town that inspired her to write Sunflowers

Other novels about van Gogh:
Lust for Life by Irving Stone (1934), a biographical novel about van Gogh. More info
The Last Van Gogh by Alyson Richman (2006), a novel that imagines a tragic love between van Gogh and the daughter of the doctor who treated him in the last months of his life in Auvers-sur-Oise after he leaves Arles. More info

Nonfiction about van Gogh:
The Yellow House: Van Gogh, Gaughin and Nine Turbulent Weeks in Provence by Martin Gayford (2006). More info
Stranger on the Earth: A Psychological Biography of Vincent Van Gogh by Albert Lubin (1972). More info
Vincent Van Gogh: A Self-Portrait in Art and Letters by H. Anna Suh (2006). More info

At the Movies:
Vincent & Theo
, Robert Altman's 2005 film about the artist and his art broker brother.
Lust for Life
, the 1956 film starring Kirk Douglas, based on Irving Stone's novel.
Vincent: The Life and Death of Vincent Van Gogh
, a 1988 documentary from Dutch-Australian director Paul Cox featuring John Hurt reading from van Gogh's letters.

Online:
Short biography of van Gogh at the Van Gogh Gallery website
Van Gogh's Letters, complete, unabridged, and organized by category



Back to Historical Novels: 19th Century Europe

Back to Directory of Book Reviews