Studio Saint-Ex

by Ania Szado

Reviewed by Margaret Donsbach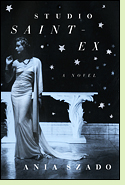 Studio Saint-Ex is about a a fictional aspiring fashion designer in love with Antoine de Saint-Exupéry but maneuvered into a prickly relationship with his wife Consuelo. In 1942, exiled from Nazi-occupied France, Saint-Exupéry lived in New York and wrote The Little Prince, the tale of a boy from a distant planet whose travels teach him about love. It would become a children's classic, one of the three best-selling books of all time.
Mignonne Lachapelle, the young fashion designer in Studio Saint-Ex, is determined to launch a career despite two serious obstacles: wartime restrictions on women's clothing, and Madame Fiche, a teacher who viciously criticized and then stole designs Mig created as a student. Madame, struggling to make her own studio successful, offers Mig a job, a precarious step toward a fashion career. The beautiful, self-centered Consuelo tantalizes them by admiring Mig's designs. Mig, who fell in love with Antoine the year before while tutoring him in English, rekindles her feelings for him while courting his wife as a prospective client.
The Saint-Exupéry marriage was troubled; in New York they lived in separate apartments in the same building. The plot of Studio Saint-Ex turns on this circumstance, but not in the way readers drawn to the story of a love affair might expect. The really exciting moments involve fashion. Consuelo tells Mig about her favorite designer's work: "Valentina works with only the most exquisite, most sensual fabrics, and shapes them with the sparest of seams. . . . When I speak of real design, this is what I speak of. One can only submit fully to it. Under a Valentina, one must wear nothing, only bare skin." The central characters, with their ambitions and passions, are the women, each one vivid and distinct: Mig, Madame Fiche, and Consuelo. Antoine remains elusive and distant.
Studio Saint-Ex includes some "spoilers" for The Little Prince, so if you've missed out on the children's classic, you may want to read it before picking up the novel. (2013, 350 pages)
More about Studio Saint-Ex at Powell's Books
,
Amazon.com
or
The Book Depository
Fiction by and about Antoine de Saint-Exupéry:
The Little Prince
by Antoine de Saint-Exupéry (1944), an allegorical children's book, appreciated by many adults, in which a child learns about the nature of love.
More info


Night Flight by Antoine de Saint-Exupéry (1931), about a pilot in Argentina who risks his life to make a scheduled mail delivery flight during a dangerous storm.
More info


The Last Flight of the Little Prince by Jean-Pierre de Villers (2000), a dual-language French/English novella which imagines Saint-Exupéry's final flight.
More info
Nonfiction about Antoine de Saint-Exupéry and the people around him:
Saint-Exupéry: A Biography
by Stacy Schiff (2006).
More info


Wind, Sand and Stars by Antoine de Saint-Exupéry (1939), Saint-Exupéry's memoir of his experiences as an aviator, especially his 1935 crash in the Sahara; won a National Book Award in the U.S.
More info


The Tale of the Rose by Consuelo de Saint-Exupery (2000 in the original French; 2003 in English translation), a memoir by Antoine de Saint-Exupéry's wife Consuelo, discovered and published two decades after her death in 1979.
More info


Valentina: American Couture and the Cult of Celebrity by Kohle Yohannan (2009), about the American fashion designer Valentina Schlee.
More info
Online:
Review of Valentina: American Couture and the Cult of Celebrity
at the Luxe Chronicles blog
Back to World War II America, the Home Front
Back to Directory of Book Reviews