The Strings of Murder

by Oscar de Muriel

Reviewed by Margaret Tomlinson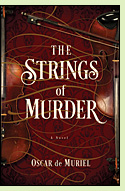 In The Strings of Murder, an odd-couple detective team investigates the grisly serial killings of the owners of a valuable antique violin, said to be the instrument - perhaps cursed - on which Niccolo Paganini composed his violin music that was so fiendishly difficult to play. The narrator, Ian Frey, is an English aristocrat who works by choice as a Scotland Yard detective. Devastated by the prospect of losing his job, he agrees to an assignment in Edinburgh despite his prejudice against anyone or anything Scottish. The Scottish detective "Nine Nails" McGray, whose nickname refers to his loss of a finger under tragic circumstances, heads a division - anathema to Frey - that investigates supernatural occurrences.
Played for humor, the story makes much of the contrast between Frey's aristocratic disdain and McGray's democratic instincts, Frey's obsessive tidiness and McGray's laissez-faire attitude, Frey's stiff upper lip and McGray's quick temper. Frey often needs a translation to understand McGray's accent and slangy speech, so readers unfamiliar with Scottish slang will be clued in along with Frey.
The Strings of Murder is Oscar de Muriel's first novel, and while the numerous plot twists are likely to keep readers turning the pages, some clumsiness of expression may need to be overlooked. For example, McGray's accent sometimes feels overdone, and Frey's frequent comment, "I blew inside my cheeks," becomes an annoying tic after a while. Overall, this is an entertaining, briskly paced introduction to the music of Paganini and the world of late-nineteenth-century Edinburgh violinists, as well as to some curious alleyways of human experience that can't be revealed here without spoiling the surprise. (2015, 406 pages)
More about The Strings of Murder at Powell's Books
or
Amazon.com
Other mystery novels about music:
Paganini's Ghost
by Paul Adam (2010), a contemporary mystery about a detective and a violin maker who team up to investigate the murder of an art dealer whose death seems connected to a concert in which a violinist played Paganini's violin.
More info
Requiem in Vienna
by J. Sydney Jones (2010), a mystery about a Jewish lawyer's 1899 investigation into a series of fatal and potentially fatal "accidents" plaguing composer Gustav Mahler. See
review
or
more info at Amazon.com
Chasing the Devil's Tail
by David Fulmer (2001), about a Creole detective investigating murders of prostitutes in New Orleans' Storyville district in 1907 amid the birth of jazz.
More info
Nonfiction about Paganini:
Paganini: The Demonic Virtuoso
by Mai Kawabata (2013).
More info
Paganini
by John Sugden (1980).
More info
Nicolo Paganini: His Life and Work
by Stephen Samuel Stratton (1907).
More info
Online:
Niccolo Paganini
at Wikipedia
Back to Novels of Nineteenth-Century Europe
Back to Directory of Book Reviews