Strange Gods

by Annamaria Alfieri

Reviewed by Margaret Donsbach Tomlinson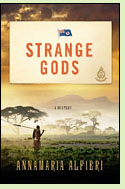 Strange Gods is a mystery set in Isak Dinesen country: British East Africa (now Kenya) in 1911. The main characters are entirely fictional, but readers who enjoyed Isak Dinesen's Out of Africa or the 1985 film will come across references to familiar historical people. Among them, Denys Finch Hatton and his native tracker Kinuthia play significant roles in the story, and Bror Blixen also makes an appearance, though in 1911 he and Miss Dinesen, still far away in Denmark, were not yet engaged to marry.
This is a murder mystery in the classic whodunnit tradition, and while Alfieri's admiration for Out of Africa and her affection for its setting is evident, she makes no attempt to emulate Dinesen's literary style. The characters in Strange Gods are more developed, though, than in many mysteries. A recurrent theme is the character with a foot in each of two worlds, belonging fully to neither one. Vera McIntosh is a bright young woman born and raised in Africa by Scottish parents. She is smitten with Justin Tolliver, a British policeman she danced with at a ball. Tolliver's profession puts him at odds with his aristocratic background, and he further defies tradition - though cautiously - by recognizing the intelligence and skill of his lieutenant Kwai Libazo - who like Kinuthia is half-Maasai and half-Kikuyu and accepted by neither tribe.
When Vera's uncle is found dead with an African spear in his back, suspicion falls first on a Kikuyu medicine man who has expressed open hatred for him. Vera, fluent in Kikuyu, learns of evidence that points in a different direction. Meanwhile, Tolliver's superior pushes him for a quick arrest, but Tolliver's appreciation for the complexity of the political situation leads him, with Libazo's help, to dig deeper. The solution is satisfyingly tragic and complex, in keeping with the setting. It also hints at future mysteries in a series, when Karen Blixen will, we can hope, make an appearance sooner or later. (2014, 274 pages)
More about Strange Gods at Powell's Books
or
Amazon.com
Other historical mysteries set in Africa:
Mark of the Lion
by Suzanne Arruda (2006), about an adventurous woman who goes to Africa after driving an ambulance during the First World War; #1 in the Jade del Cameron mystery series.
More info
The Mamur Zapt and the Return of the Carpet
by Michael Pearce (1988), about a British official in turn-of-the-century Egypt who must calm tensions when a political assassination attempt is made shortly before a religious festival; #1 in the Mamur Zapt series.
More info
Isak Dinesen's memoir (slightly fictionalized) of her life in Africa:
Out of Africa
by Isak Dinesen (1937).
More info
Nonfiction about British East Africa:
Too Close to the Sun
by Sara Wheeler (2007), a biography of Denys Finch Hatton, the British big game hunter who became Karen Blixen's lover in British East Africa.
More info
The Man Whom Women Loved
by Ulf Aschan (1987), a biography of Bror Blixen.
More info
Isak Dinesen: The Life of a Storyteller
by Judith Thurman (1982), a biography of Isak Dinesen.
More info
At the Movies:
Out of Africa
, the 1985 film by Sydney Pollack starring Meryl Streep as Karen Blixen (Isak Dinesen), Robert Redford as Denys Finch Hatton, and Klaus Maria Brandauer as Bror Blixen. Highly recommended. It won a well-deserved Academy Award for Best Picture.
Online:
History of Kenya
at the History World website
Back to Historical Novels of Africa
Back to Directory of Book Reviews