Storm of Arrows

by Christian Cameron

Reviewed by David Maclaine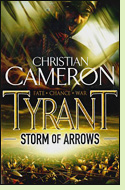 Second in Christian Cameron's "Tyrant" series, Storm of Arrows takes the core group of warriors who survived the great battle at the end of Tyrant on a long trek to the eastern edge of the Sea of Grass. The Greek leader, Kineas, is driven by prophetic dreams and his love for his Amazonian mate, now pregnant, to fulfill her promise of a return favor to the eastern tribe who had ridden west to help them in the battle. This time, though, the enemy will be led by Alexander himself. In the course of the novel Cameron offers his usual exemplary treatment of the logistics of ancient warfare, showing the effort and planning required to keep armies fed during long campaigns. He also provides an instructive lesson in the geography of the steppes and seas (Black and Caspian) at the northeastern fringe of the world known to the Greeks. Cameron adds new layers to his portrait of the horse people known here as Sahks (called Scyths in the usual Greek sources) whose very different culture poses political challenges for Kineas rivaling those of the Machiavellian world of Greek politics.
During the final third of Storm of Arrows the finely drawn characters take part in a campaign also treated by Mary Renault in the Persian Boy and Steven Pressfield in The Afghan Campaign, this time viewed from the saddles of Alexander's adversaries. Along the way, readers glimpse Alexander and his circle, here shown less kindly than in the earlier treatments - Hephaestion, in particular, comes across as a nasty piece of work - and the story culminates in a battle on the Jaxartes River whose outcome differs sharply from Renault's and Pressfield's accounts. Once again, Cameron takes us into the dusty swirl of ancient cavalry warfare, capturing the deep emotions of a struggle where death loomed on the point of arrow, sword or spear. (2009, 384 pages)
More about Storm of Arrows at Powell's Books
or
Amazon.com
Other novels featuring Scythians:
Tyrant
by Christian Cameron (2008); #1 in the Tyrant series. See
review
or
more info at Powell's Books
Lion of Scythia
by Max Overton (2004).
More info
The Gathering of the Storm
by William Napier (2007), #2 in the Attila series.
More info
Nonfiction about the Scythians:
Classical Olbia and the Scythian World
edited by David Braund (2008).
More info
The Scythians, 700-300 B.C.
by E.V. Cernenko (1983), #137 in the Osprey Men at Arms series.
More info
Online:
Top 10 Interesting Facts about the Scythians
at www.listverse.com

Back to Novels of Ancient History

Back to Directory of Book Reviews