Steven F. Havill Interview
October 3, 2009
HistoricalNovels.info interviews
the author of Race for the Dying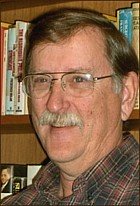 On October 3, 2009, we talked with Steven F. Havill, author of the historical mystery Race for the Dying, set in a logging town in coastal Washington State in 1891. It's about an eager young doctor fresh out of medical school who arrives in tiny Port McKinney to join the practice of his father's old friend. Unfortunately, all is not as expected, and when young Dr. Parks is injured tumbling down a cliff, his options become more limited than he is willing to accept.

After writing two contemporary mystery series, what inspired you to write a historical novel set in 1891?
The history of medicine has been one of my hobbies for years. My first four novels were 'medical westerns', my own private genre. Race for the Dying came to life when I found the 1910 publication by the AMA, Quacks and Nostrums, an invaluable research text. Bill Gastner, the protagonist of the Posadas mystery series, has always been a history buff, and he told me to go ahead and do it.

The passion your character Thomas Parks feels for medicine comes across so strongly. Have you ever studied medicine yourself?
I've studied medicine for 30 years ... not as a physician, but as a teacher and writer, and as someone with curiosity about the subject. I love medical novels, whether they be by Slaughter, Cook, or whomever.

Do you see any parallels in today's world to the abuses of nineteenth-century mail-order medicine?
The parallels are obvious. Open any magazine, or watch TV, and you'll see ads that play on people's fears. I recently saw a cereal box that touted the cereal's efficacy in supporting the immune system. The small print said, "a balanced, healthy diet ..." It reminded me immediately of Zach Riggs's speech about the peach as a wonder drug.


---
See listing for Race for the Dying at Powell's Books
See listing for Race for the Dying at Amazon.com