The Spring of the Ram
by Dorothy Dunnett
Reviewed by Margaret Donsbach

Warning: If you have not read Niccolo Rising, the first in the "House of Niccolo" series, this review contains spoilers for that book.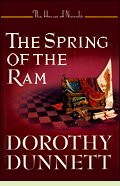 The Spring of the Ram, the second in the "House of Niccolo" series, finds the rising young Flemish merchant Nicholas vander Poele on his way to the exotic outpost of Trebizond (today the Turkish city of Trabzon). At nineteen, Nicholas is young and inexperienced, but with an uncommonly clever head on his shoulders. Once an apprentice for the Charetty cloth dyeing works in Bruges, he has become its figurehead by marrying the widowed Marian de Charetty.
Having made an implacable enemy of a powerful Scottish nobleman, Nicholas must clear out of Bruges for his own safety and the well being of the Charetty company. Accompanied by several older, more sedate employees, he sets out to ally himself with the Medici family in Florence and acquire a ship and backing for a buying expedition in Trebizond. It's a journey that makes comparisons to Jason's quest for the Golden Fleece irresistible. Meanwhile, Marian's daughter Catherine complicates matters by allowing herself to be courted in secret by an adventurer bent on sabotaging Nicholas's mission.
The characters are distinct individuals: Nicholas with his keen intelligence and penchant for secrecy, the spiteful minx Catherine, Trebizond's effete emperor, and numerous others, all so vividly evoked that readers will remember them despite the huge cast. The plot is wickedly complex, full of twists and turns and startling developments. Readers will need to keep their wits about them to follow all the schemes and doublecrosses. The meticulously researched setting plunges readers into the Renaissance world of merchant adventuring that gave birth to today's commercial society of capitalists and consumers.
The Spring of the Ram is decidedly not light reading, and the "House of Niccolo" novels do not lend themselves to being read out of order. Readers who relished Niccolo Rising will certainly want to follow Nicholas's further adventures. (1987; 469 pages)
More about The Spring of the Ram at Powell's Books, Amazon.com
or The Book Depository

Other novels about merchants and their travels:
The Jewel Trader of Pegu by Jeffrey Hantover (2008), about a Venetian Jew who makes a trading expedition to Pegu (later Burma) which transforms his life. See review or more info at Powell's Books or The Book Depository
A Journey to the End of the Millennium by Abraham B. Yehoshua (1999), about a Jewish merchant from North Africa who travels to Paris with his squabbling family on the eve of the first millenium. More info at Powell's Books or The Book Depository
Balthasar's Odyssey by Amin Maalouf (2000), about a seventeenth-century Levantine merchant and his search for a mystical book said to contain the hundredth name of God. More info at Powell's Books or The Book Depository

Nonfiction about Renaissance merchants:
The Rise of Merchant Empires: Long Distance Trade in the Early Modern World, 1350-1750 by James D. Tracy. More info at Amazon.com
or The Book Depository
The Silk Road in World History by Xinru Liu (2010). More info at Powell's Books or The Book Depository
To Wake the Dead: A Renaissance Merchant and the Birth of Archaeology by Marina Belozerskaya (2009). More info at Powell's Books or The Book Depository

Online:
A Renaissance Merchant's Life in Clothing at the Res Obscura blog



Back to Novels of the Renaissance

Back to Directory of Book Reviews