Some Danger Involved
by Will Thomas
Reviewed by Susan Gillmor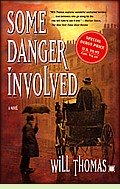 Thomas Llewelyn is a young, down-on-his-luck Welshman in 1884 London, determined to throw himself into the River Thames if something doesn't go his way soon. He answers an advertisement for an "assistant to prominent enquiry agent. . . . Some danger involved in performance of duties" and is stunned when eccentric Cyrus Barker chooses him from hundreds of more auspicious candidates. With clever tongue in cheek, Llewelyn narrates this engaging beginning to a promising Victorian detective series.
Barker and his new assistant are hired to investigate the shocking crucifixion of Louis Pokrzywa, a young Jewish scholar and teacher, an immigrant from Poland escaping the escalating pogroms of Eastern Europe. There is no shortage of either viable suspects or of "danger involved" as Llewellyn is variously "shot at, barely missed by a dagger, physically beaten, strangled, and nearly crucified" in pursuit of the truth. Barker's new assistant is equally stupefied by his boss's numerous entourage: "Chinese gardeners. Jewish butlers. Lazy clerks. Temperamental French cooks," not to mention a ferocious Pekinese named Harm.
The detective tale itself is excellent. Fully as enjoyable and instructive is the portrayal of the various segments of Jewish culture in 1884 London: the long-established and largely Anglicized Sephardic population of Spanish and Portuguese roots stands in stark contrast to the more recently transplanted Yiddish-speaking Ashkenazim from Poland and Russia fleeing violent pogroms. We meet also Messianic Jews with their Talmudic interpretation of Christianity, and grassroots Zionists with communistic tendencies. The crucifixion of Louis Pokrzywa occurs in the midst of growing anti-Semitic sentiments and unrest that threaten this multidimensional community in Victorian London.
Some Danger Involved takes us on a fast-paced and winding trip through London's ancient alleyways, secret tunnels, posh restaurants, and Victorian neighborhoods. The unraveling of the mystery is complex with a surprising denouement and a neat and satisfactory conclusion. Four sequels, each set amid a different ethnic quarter in this cosmopolitan city, offer the promise of a long and rich detective series. (2004, 288 pp.)
More about Some Danger Involved at Powell's Books

Other mysteries in the Barker and Llewelyn series:
#2: To Kingdom Come (2005), featuring violent Irish dissidents. More info
#3: The Limehouse Text (2006), featuring Chinese martial arts forbidden in England. More info
#4: The Hellfire Conspiracy (2007), featuring delinquent aristocrats in London's infamous Hellfire Club. More info
#5: The Black Hand (2008), featuring Italian gangsters. More info

Nonfiction about London's Jewish population:
Jewish London: An Illustrated History by Gerry Black (2003). More info
East Side/East End: Eastern European Jews in London and New York, 1870-1920 by Selma Berrol (1994). More info
The Jews of Britain, 1656 to 2000 by Todd M. Endelman (2002). More info

Online:
The History page at the Jewish East End of London website



Back to Historical Novels: 19th Century Europe

Back to Directory of Book Reviews