The Solitary House (Tom-All-Alone's)
by Lynn Shepherd
Reviewed by Margaret Donsbach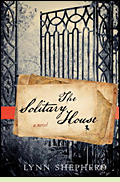 Cleverly constructed in the interstices of Dickens' Bleak House, The Solitary House centers on a dismissed policeman turned private detective. Charles Maddox has one grumpy client employing him to find a long-missing grandchild. When the well-connected lawyer Edward Tulkinghorn offers Maddox a small but well paid job, he leaps at the opportunity. Someone has been sending threatening letters to a banker, and Tulkinghorn asks him to find out who. Maddox has hardly embarked on this task when his employers prove to be the greater and more sinister mystery.
Read on its own, The Solitary House is a fully satisfying historical mystery. Those who have read Bleak House, and especially those who have also read The Woman in White by Dickens' friend Wilkie Collins, will enjoy recognizing familiar haunts and characters portrayed from new angles. The London air, "so deadened with a greasy yellow fog that you can barely see three paces ahead;" the horrifying inner-city cemetery Tom-All-Alone's; and the shooting gallery where poor Jo dies are all made newly relevant. The sinister Tulkinghorn is the chief pleasure among the borrowed characters, with secrets Dickens did not expose. Inspector Bucket and Lady Dedlock also appear. The story itself is entirely original and will keep readers engrossed with plenty of suspense, twists and surprises.
An unnamed narrator outside time (similar to the narrator in the introductory pages of Michel Faber's The Crimson Petal and the White) ushers readers through the setting, pointing out features of the landscape, both physical and cultural. "Muffle your face, if you can, against the stink of human and animal filth, and try not to look too closely at what it is that's caking your boots, and sucking at your tread.... We have a way to go yet and the day is darkening." Occasionally, this narrator serves up a salient and scary point unknown to the characters. The technique might be distancing in a less vivid and suspenseful novel. Here, it works. (titled Tom-All-Alone's in the U.K.; 2012; 340 pages, including an Acknowledgments discussing the author's inspirations and sources)
More about The Solitary House at Powell's Books, Amazon.com
, or The Book Depository

Other novels set in Victorian England:
Bleak House by Charles Dickens (1852-53); some say this is Dickens' finest novel; contemporary at the time Dickens wrote it. More info
The Woman in White by Wilkie Collins (1859–1860); one of the first mystery novels; contemporary at the time Collins wrote it. More info
The Crimson Petal and the White by Michel Faber (2002); about a prostitute in Victorian London who snatches an opportunity to change her profession. More info

Nonfiction about Victorian London:
London's Shadows: The Dark Side of the Victorian City by Drew D. Gray (2010). More info
The London Underworld in the Victorian Period: Authentic First-Person Accounts by Beggars, Thieves and Prostitutes by Henry Mayhew (Dover edition, 2005). More info
Victorian London Street Life in Historic Photographs by John Thomson (originally published 1877 as Street Life in London). More info

At the Movies:
Bleak House
, the 2005 BBC "Masterpiece Theatre" production starring Gillian Anderson as Lady Dedlock and Charles Dance as Mr. Tulkinghorn. Highly recommended.
Online:
"Dirty Old London" at NPR



Back to Novels of Nineteenth-Century Europe

Back to Directory of Book Reviews