Snared Nightingale
by Geoffrey Trease
Reviewed by Annis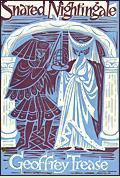 The snared nightingale, symbol of desire in Boccaccio's bawdy Decameron, becomes the signature for a suave, witty tale of romance, intrigue and culture-clash set in Renaissance Italy and the England of Yorkist king Edward IV.
Young Niccolo Sannazzaro is an impecunious scholar, a retainer at the elegant, cultured court of Duke Federigo of Urbino. To all intents and purposes Italian, he is the son of Sir Thomas Bray, an English knight and soldier of fortune who took his family to Italy and inconveniently died soon after. Left with a small child, Bray's attractive widow soon married an Italian admirer. To his astonishment, Nicholas discovers that due to a bizarre series of deaths, he is now the Earl of Kyre, a holding of strategic importance in the Welsh Marches. Used to devious and often lethal Italian politics, he approaches his new role with caution, despite assurances that inviolable English laws of succession mean he needn't fear assassination by a rival.
Rain and the unenthusiastic English welcome reserved for foreigners dampen Nicholas' arrival at Kyre. He's delighted to find that he's rich and dismayed to discover that an English lord is subject to the twin tyrannies of traditional procedure and a hierarchy of touchily proud hereditary retainers; that change is firmly discouraged with the refrain, "It is customary . . ."; and that fighting and hunting are regarded as the only suitable pursuits for a gentleman. The sophisticated and cynical Nicholas surprises himself, though, by falling in love with both his new home and a sweet-voiced Welsh songstress, the lovely, red-haired Lady Jacqueline Thorpe. But as the new earl manoeuvers to capture his very own nightingale, a series of seemingly random accidents befall him. Maybe English politics are not so different from those of Italy after all . . .
A rare Trease adult novel, Snared Nightingale is a gem, full of romantic contretemps, double-dealing and wonderful characters, a masterpiece of sly humour well worth tracking down. (1957; 311 pages)
Not readily available in the U.S. See the Snared Nightingale listing at Alibris or try requesting it through Interlibrary Loan.

Other historical novels about adjusting to a foreign culture:
The Jewel Trader of Pegu by Jeffrey Hantover (2008), about a fifteenth-century European Jew in what would later become Burma. See review or More info at Powell's Books
The High City by Cecelia Holland (2009), about a traveler in medieval Constantinople. See review or More info at Powell's Books
The French Mistress by Susan Holloway Scott (2009), about the French mistress of Charles II, the English Restoration king. See review or More info at Powell's Books

Nonfiction about Urbino and the Welsh Marches:
Urbino: The Story of a Renaissance City by June Osbourne (2003), about the Italian city where Nicholas grew up. More info
A Year in the Life of the Welsh Marches by Derry Brabbs (2007), about the landscape that captivated Nicholas. More info

Online:
About Nicholas's Italian lord, Federico a Montefelto, Duke of Urbino at Wikipedia
About the Welsh Marches at the Castle Wales website



Back to Novels of the Renaissance

Back to Directory of Book Reviews