Sloane Hall
by Libby Sternberg
Reviewed by Margaret Donsbach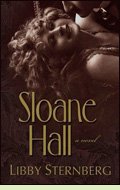 What if Jane Eyre were a young man in Hollywood in the late 1920s? Sloane Hall explores this intriguing question. Readers familiar with Charlotte Brontë's classic Jane Eyre will find themselves totting up the correspondences and wondering how Sternberg will handle other characters and plot twists as the story unfolds.
John Doyle carries bitter memories of his childhood incarceration in a Texas reform school as harsh as Jane's Lowood School until scandal brought down the administrator. As the novel opens, he loses his job in the rapidly changing movie industry and goes to work as a lowly chauffeur at Sloane Hall, the mansion of the ravishingly beautiful silent film star Pauline Sloane. A few years older than John, her past is as troubled as Edward Rochester's, but in a different way that will be gradually revealed to readers over the course of the novel. Marta, her protective and friendly housekeeper, plays a similar role to Mr. Rochester's Alice Fairfax. A mysteriously unpleasant servant, noises in the attic, and a host of other characters and plot points correspond in various ways with those in Jane Eyre.
There are differences, too. Readers may not find the characters as likeable as those in the Brontë novel. Mr. Rochester, for all his faults, was extraordinary for his time in his willingness to overlook class distinctions and to respect the quality of a woman's mind. Readers may wonder what, other than physical beauty, John sees in the capricious, disrespectful Pauline, just as they may wonder what Pauline sees in her prickly, sometimes hot-tempered chauffeur. Perhaps because Brontë herself survived horrific experiences and could write about them from personal knowledge, Jane Eyre is never melodramatic. Sloane Hall often is - but there may be worse things than melodrama when it comes with a plot this cleverly constructed. (2010; 290 pages)
More about Sloane Hall at Powell's Books or Amazon.com

Other novels set during the early days of Hollywood:
The Seamstress of Hollywood Boulevard by Erin McGraw (2008), about a Kansas woman married as a teenager who leaves her husband and children and goes to Hollywood, where she sews costumes for movie stars. More info
Devil's Garden by Ace Atkins (2009), a noir mystery in which Pinkerton agent Dashiell Hammett is hired to defend silent film star Fatty Arbuckle from a charge of rape that led to a woman's death, one of the most notorious scandals of the 1920s. More info
The Latham Loop by Laura Mazzuca Toops (2003), about the birth of the Hollywood film industry; #1 in the Harold Gilbert series. More info

Nonfiction about the history of the Hollywood film industry:
American Lightning: Terror, Mystery and the Birth of Hollywood by Howard Blum (2008). More info
An Empire of Their Own: How the Jews Invented Hollywood by Neal Gabler (1988). More info
Silent Traces: Discovering Early Hollywood Through the Films of Charlie Chaplin by John Bengtson (2006). More info

At the Movies:
Singin' in the Rain
, the classic 1952 musical about the transition from silent films to talkies during the late 1920s, starring Gene Kelly, Donald O'Connor and Debbie Reynolds.

Online:
Hollywood Film Studios in the 20s at the Montgomery College website



Back to 20th Century: America Between the Wars

Back to Directory of Book Reviews