Silent on the Moor
by Deanna Rayborn
Reviewed by Susan Gillmor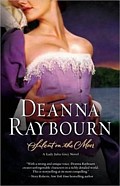 Silent on the Moor, the third in Deanna Raybourn's Lady Julia Grey series, brings some now familiar members of the eccentric March family north to Yorkshire and a thick Gothic atmosphere: "[T]he moor stretched out ahead of us, silvery-white and rustling, like a wide ghostly sea. In the distance lay Grimsgrave Hall, black and hulking as a ship adrift on moonlit waves." Lady Julia arrives uninvited, ignoring the impropriety of her behavior, determined to settle romantic matters with Nicholas Brisbane, the new lord of Grimsgrave.
Much is amiss when Julia, sister Portia, brother Valerius and assorted maids and menagerie descend on the once-elegant manor. It has fallen into decrepitude, and the impoverished remnants of the once-noble Allensby family are still resident as the mysteries begin. Lady Julia's overly developed curiosity shifts into high gear to sniff into every dark and aberrant corner she encounters.
Brisbane is as maddeningly elusive and haughty as ever, and the romantic tension between him and Lady Julia seems almost painfully overextended, though satisfactorily concluded. Although the various mysteries could have developed and gained focus sooner, and the many disparate threads and pages of exposition could have been sharpened with further culling and selection, this reader enjoyed making a deeper acquaintance with these engaging characters.
The series will appeal more to fans of romantic mysteries who enjoy a period ambiance than to readers devoted to deep historical accuracy. In Silent on the Moor, the language and certain social attitudes mirror eighteenth-century life more closely than that of the late nineteenth. Taking full advantage of the conventions of the Gothic novel, almost to the point of parody, it offers light and witty entertainment, good for curling up on a rainy day and taking a short vacation. (2009, 465 pages)
More about Silent on the Moor at Powell's Books
Interview with Deanna Raybourn

Other mysteries in the Lady Julia Grey series:
#1: Silent in the Grave (2007). Review or More info
#2: Silent in the Sanctuary (2008). More info

Some favorite Gothic novels of author Deanna Raybourn:
Jane Eyre by Charlotte Brontë (1847). More info
Mistress of Mellyn by Victoria Holt (1960). More info
Thornyhold by Mary Stewart (1988). More info

Nonfiction about the Yorkshire moors:
The Yorkshire Moors and Wolds, photography by Mark Denton (2007). More info
Goathland Walks: Being a guide to all who are visiting this Yorkshire land of moor and waterfall by William Ridley Makepeace (1923). More info
Vanishing Yorkshire: North York Moors from Dalesman Publishing Co., Ltd. (1990). More info

At the Movies:
Jane Eyre, the 2006 Masterpiece Theatre version starring Ruth Wilson and Toby Stephens. More info
Wuthering Heights, the 1970 film featuring Timothy Dalton as Heathcliff. More info

Online:
Wikipedia article on the North York Moors National Park



Back to Novels of Nineteenth Century Europe

Back to Directory of Book Reviews