Silent in the Grave
by Deanna Raybourn
Reviewed by Susan Gillmor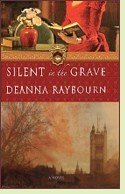 Silent in the Grave introduces Lady Julia Grey and Nicholas Brisbane, the most dynamic pair of Victorian sleuths to grace the page since Anne Perry's Thomas and Charlotte Pitt. In the opening page, as Lady Julia's baronet husband writhes on the white marble floor of their townhouse foyer, she exhorts him: "Edward, we have guests. Do get up."
But Sir Edward is dying (rather dramatically) of what everyone believes is a congenital heart defect. Only Nicholas Brisbane, a private investigator Edward hired to find the person torturing him with veiled threats, suspects murder. Lady Julia wants no part in such suspicions . . . until she discovers one such threat hidden in Edward's old study. The game is afoot.
Lady Julia is the youngest daughter of the Earl of March, patriarch of a large tribe, "[r]anging from the mildly odd to the wildly eccentric." Julia is distressingly conventional in the eyes of her family and bemoans her own normalcy: "I did not even keep a pet monkey . . . or dye my dogs pink." In the course of the story, we watch Julia shed her black widow's weeds, befriend Madame de Bellefleur, an infamous London courtesan with a mysterious past, and finally emerge from mediocrity (according to sister Portia, living openly with her lesbian lover) "[a]ll bold colors and alabaster décolletage." In tandem with the swarthy and alluring Brisbane, Julia is now engaged up to her colorful knees trying to solve the mystery of her husband's death and "juggling secrets like so many conjurer's balls," not the least of which is the Queen's Tower raven, which has taken up residence in her townhouse along with several other strange members of the March clan.
If Silent in the Grave is a bit longer than a more conventional detective novel, the reader is compensated by the rich Victorian details fairly dripping off the pages. The mystery is skillfully threaded throughout, leading us on with increasing suspense to the very last page. (2007, 511 pages)
More about Silent in the Grave at Powell's Books
Interview with Deanna Raybourn about #3 in this series, Silent on the Moor

Sequels to Silent in the Grave:
Silent in the Sanctuary (2008), #2 in the Lady Julia Grey mystery series. More info
Silent on the Moor (2009), #3 in the Lady Julia Grey mystery series.
More info

Nonfiction about real Victorian murder cases:
The Suspicions of Mr. Whicher by Kate Summerscale (2008), the true story of the detective who untangled the mystery of who murdered a three-year-old boy, and his fall from grace after he failed to clinch his case in court. More info
Crime Archive: Dr. Crippen by Katherine Watson (2007), the true story of the Victorian physician who murdered and dismembered his wife, and the police chase which finally caught up with him and his mistress on a ship halfway across the Atlantic. More info
Death at the Priory: Love, Sex and Murder in Victorian England by James Ruddick (2002), a new look at the 1876 poisoning death of a young English barrister and the sensational investigation which followed. More info

Online:
Legend of the Ravens at the Historic Royal Palaces website



Back to Historical Novels: 19th Century Europe

Back to Directory of Book Reviews