The Signature of All Things

by Elizabeth Gilbert

Reviewed by Margaret Donsbach Tomlinson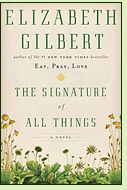 Alma Whittaker, the heroine of The Signature of All Things, is drawn with such confident, passionate intensity, readers may find themselves searching the history of botany to learn more about her, wondering both why they had never heard of her before and how author Elizabeth Gilbert dares to publish such plausible and intimate speculations about the nineteenth-century scholar's private life. Not to worry: Alma Whittaker is fiction. But what a fiction she is!
Born in 1800, Alma is the daughter of Englishman Henry Whittaker and his Dutch wife. Scruffy young Henry's ambitious path crossed that of the wealthy explorer running the Royal Botanic Gardens at Kew, and by foul means and fair Henry parlayed this botanical connection to success. Once launched, his choice of wife was the similarly determined daughter of the curator of Amsterdam's Hortus Botanicus gardens. The two move to the New World, where their tall, beak-nosed, robustly-built daughter Alma grows up in an atmosphere seesawing between her father's exhuberantly ruthless self-interest and her mother's vigilantly self-effacing respectability. At nine, she is presented with an adopted sister whose exquisite beauty is a constant reminder of her own unattractiveness. She channels her passions into serving her father's business empire, absorbing his extensive library, and cultivating her own botanical genius. Her study of mosses, humble but enchanting, leads her on an astonishing personal journey in which she must contemplate the roots of scientific inquiry: the Faustian desire to comprehend everything.
The Signature of All Things takes readers on a roller-coaster ride of emotional, scientific and spiritual exploration. Gilbert, to her great credit, does not try to force answers, those square pegs of our clunky, limited human understanding, into the deep and compelling round holes of life's mysteries. Instead, she lets the incomparable Alma take us by the hand and pull us into the world's wonderful, terrible unfathomability. If you want to learn more about Alma's real-life counterparts, look up the nineteenth-century women of botany Mary Treat, Elizabeth Knight Britton and Marianne North. (2013, 499 pages)
More about The Signature of All Things at Powell's Books
or
Amazon.com
Other novels about scientific explorers:
Rifling Paradise
by Jem Poster (2006), about a nineteenth-century Englishman who goes to Australia to collect bird specimens and travels into the outback with a brutish colonial guide and an intuitive part-Aboriginal boy. See
review
or
more info at Powell's Books
Creation
by Katherine Govier (2003), about the naturalist John James Audubon and his quest to draw every bird in North America.
More info
Mr Darwin's Shooter
by Roger McDonald (1999), about Syms Covington, the young sailor befriended by Charles Darwin when they meet aboard the Beagle, who assists in shooting animal specimens in the Galapagos Islands, and is later troubled by the implications of Darwin's theory of evolution.
More info
Nonfiction about mosses, and nineteenth-century women and botany:
Gathering Moss: A Natural and Cultural History of Mosses
by Robin Wall-Kimmerer (2003), essays about mosses and life.
More info
Abundant Beauty: The Adventurous Travels of Marianne North, Botanical Artist
by Marianne North (2010; excerpts from North's 1894 autobiography), about a friend of Charles Darwin who set out in 1871 to paint plants in their natural habitat on every continent except Antarctica.
More info
Botany, Sexuality and Women's Writing, 1760-1830: From Modest Shoot to Forward Plant
by Samantha George (2008), about the responses of eighteenth-century women to Linnaeus' discovery of the sexuality of plants.
More info
Online:
Joseph Banks
, Wikipedia entry about an early manager of the Royal Botanic Gardens at Kew (and a character in
The Signature of All Things
) at the Kew Gardens website
The Garden
, about the garden at Amsterdam's Hortus Botanicus, founded in 1638
Back to Novels of Nineteenth-Century America
Back to Directory of Book Reviews