Shadows on the Rock

by Willa Cather

Reviewed by David Maclaine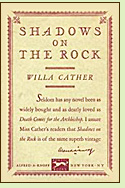 Shadows on the Rock is not one of Cather's most famous novels. In contrast to the dramatic open spaces envisioned in her best-remembered works, O, Pioneers!, My Antonia, and Death Comes for the Archbishop, which include unforgettable descriptions of the people and landscapes of the American West, Shadows takes place almost entirely on a rocky headland on the St. Lawrence River. There, in the seventeenth century, French colonists built an outpost of civilization on the brink of a vast wilderness. Cather offers swift and sure portraits of assorted characters, but her main window into this vanished world is the young daughter of an apothecary who has crossed the Atlantic in the train of Count Frontenac, the now-aging leader of the colony. Cécile moves freely up and down the sloping streets of Quebec and almost as easily across boundaries of class. When she befriends the ragged young son of a prostitute, she enlists aid from Bishop Laval, an old and dedicated churchman who has been pushed aside by a younger and more worldly bishop with connections at court.
Cécile thrills to tales from the dangerous frontier, tales about the perils of trappers caught by storm in the forest or about the martyrdom of Jesuit missionaries in the natives' villages. But she takes more personal pride in the small-scale miracles reported from the cloisters in her town, in her father's skill at treating maladies, and in the way their home preserves a little slice of proper French life in a land cut off from the wider world for half the year while they eagerly await the next ships from home. But as we get to know this isolated rock during the shifting seasons of a single year, we realize before the characters do that the meaning of "home" is changing and that something new and precious has taken root. In Shadows on the Rock Cather offers an intimate view of a time when one of our continent's oldest cities was still in the first flush of youth. (1931, 280 pages)
More about Shadows on the Rock at Powell's Books
or
Amazon.com
Other historical novels set in Quebec:
Black Robe
by Brian Moore (1985), about a seventeenth-century Jesuit mission to the Algonquins in Quebec. See
review
or
more info at Powell's Books
Bride of New France
by Suzanne Desrochers (2012), about a young French woman sent to Canada to marry a farmer, and her struggle to survive after he abandons her.
More info
This Widowed Land
by Kathleen O'Neal Gear (1993), about a Huron Indian woman who has visions of the future, and a French missionary in seventeenth-century Quebec.
More info
Nonfiction about the French in seventeenth-century Canada:
La Nouvelle France: The Making of French Canada - A Cultural History
by Peter Moogk (2000).
More info
Along a River: The First French-Canadian Women
by Jan Noel (2013).
More info
A Tale of Two Migrations: A French Canadian Odyssey
by Patrice Demers Kaneda (2013).
More info
Online:
Québec
at the Canadian Encyclopedia website
Back to Novels of the Seventeenth Century
Back to Directory of Book Reviews