Shadow Spinner
by Susan Fletcher
Reviewed by Margaret Donsbach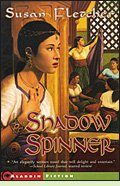 In ancient Persia, Marjan's auntie accuses her of being an impractical "shadow spinner" because she spends so much time telling stories. But Marjan can't give it up.
The person she most admires is Shahrazad, the sultan's wife. For years, all the girls of the city lived in terror of the sultan. Enraged by a wife who betrayed him with a lover, he "vowed then and there that no woman would ever betray him again. That's why he started killing off his wives." Every night, he took a new wife. Every morning, he had her killed. Until Shahrazad. Every night, Shahrazad begged to tell her sister a story. Every night, the sultan listened in. Every night, Shahrazad broke off at such a suspenseful moment, the sultan let her live so she could continue the story the next night.
"Look at Shahrazad," Marjan tells her auntie. "Telling stories can be very practical." After a girl in the palace overhears one of Marjan's stories and runs to tell Shahrazad, Marjan is whisked away to become Shahrazad's servant. In the beautiful, perfumed, frightening palace, Marjan finds herself in a terrible dilemma. Shahrazad needs to tell the sultan a very special story or she may not live past morning, and Marjan needs to find it for her.
Inspired by the ancient tale of The Thousand and One Nights, Shadow Spinner is as gripping a story as anything Shahrazad tells the sultan, and Marjan proves as courageous and clever a heroine as Shahrazad. Readers who aspire to become storytellers themselves will especially enjoy Marjan's storytelling tips, which introduce every chapter. "The tale," she says, "is often wiser than the teller." (1998; 219 pages, including an Author's Note about the history behind the story. BBYA. Recommended for ages 10-14, but older readers will enjoy this too.)
More about Shadow Spinner at Powell's Books or Amazon.com

Other YA fiction set in the Middle East:
One Thousand and One Arabian Nights by Geraldine McCaughrean (1982), a retelling of The Thousand and One Nights for preteens. More info
The Legend of the Wandering King by Laura Gallego García (2002 in the original Spanish; 2005 English translation), about a prince of ancient Arabia whose desire to win a poetry competition leads him to a terrible, wonderful fate. See review or more info at Amazon.com
To Ride the Gods' Own Stallion by Diane Wilson (2001), about a thirteen-year-old Assyrian boy whose father sells him as a slave to the royal household, where a remarkable horse changes his life. More info

Nonfiction about ancient Persia:
Empires of Ancient Persia by Michael Burgan (2009), for teens and preteens. More info
The Persian Empire by Karen Zeinert (1996), for teens and preteens. More info
Iran by Lauren Spencer (2004), about the history of Iran (called Persia before modern times) from its ancient past into the present; for teens. More info

Online:
Stories from the Arabian Nights at www.CandlelightStories.com



Back to YA Novels: Ancient History

Back to Directory of Book Reviews