The Shadow Queen

by Sandra Gulland

Reviewed by Margaret Donsbach Tomlinson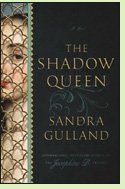 Athénaïs, mistress of Louis XIV of France, was known as "the shadow queen" because of the influence she had on the king. A daughter of the Duke of Mortemart, and the wife of the Marquis de Montespan, Athénaïs was accustomed to luxury and high position from childhood. Her high-handedness won enemies who could not attack her directly but made their hatred of her known by attacking less powerful people who were close to her.
This novel centers not on Athénaïs, but on her far more sympathetic companion Claude des Oeillets. Claude is an impoverished commoner from a family of actors, whose profession is so scandalous they are barred from church services and, on death, cannot be buried in holy ground unless they have formally renouced their work on the stage. Louis enjoyed and patronized the theater, but it was almost unthinkable for a woman like Claude to live at court. Athénaïs's high connections and brazen self-interest made it possible. Much of Claude's story takes place before her arrival at court. The French theater of the late 1600s was in its golden age, with the great playwrights Corneille, Molière and Racine writing for rival troupes and producing some of their best work. The Shadow Queen brings this theatrical world alive in all its shabby glory. Ironically, Claude finds her stage background an asset at court, where knowing how to play a role is essential. This ability, along with her quick wits, becomes important when one of Athénaïs's most vicious enemies makes Claude his target.
Gulland's earlier novel Mistress of the Sun takes place during the same time period, revolving around a different mistress of Louis XIV, Louise de la Vallière, still his "official" mistress after he installed Athénaïs as his unofficial favorite. Readers who enjoyed Mistress of the Sun will find a completely fresh and different story in The Shadow Queen. Though related, the two novels can be read and appreciated independently, in any order. (2014, 317 pages including an Author's Note about the history behind the story)
More about The Shadow Queen at Powell's Books
or
Amazon.com
Other novels set in the time of Louis XIV:
Mistress of the Sun
by Sandra Gulland (2008), about Louise de la Valliere, the remarkable horsewoman who became the first mistress of King Louis XIV of France. See
review
or
more info at Powell's Books
Before Versailles
by Karleen Koen (2011), about Louis XIV of France as a young king in 1661.
More info
To Dance With Kings
by Rosalind Laker (1989), a family saga about four generations of women beginning with a fan-maker's daughter who joins the court at Versailles during the reign of Louis XIV.
More info
Nonfiction about Claude des Oeillets, Athénaïs and Louis XIV:
The Affair of the Poisons
by Anne Somerset (2004).
More info
Athénaïs
by Lisa Hilton (2002).
More info
Love and Louis XIV
by Antonia Fraser (2006).
More info
At the movies:
Molière
, a 2007 comedy which imagines the French playwright Molière's youthful escapades during the years after he was thrown into debtor's prison; starring Romain Duris as Molière.
Online:
Claude de Vin des Oeillets
at "This Is Versailles"
Back to Novels of the Seventeenth Century
Back to Directory of Book Reviews