Seducing an Angel
by Mary Balogh
Reviewed by Margaret Donsbach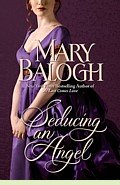 The Regency-style romance Seducing an Angel popped up as #10 on the New York Times bestseller list in June 2009, not the first of Balogh's novels to appear on the list. More a sexy, sweet costume drama than a genuine historical novel, it's the fourth in a series revolving around the romantic adventures of the fictional Huxtable family who, upon the timely death of a cousin, rose to wealth and membership in the aristocratic ton (in a more recent decade, we called their jet-setting counterparts the "beautiful people").
Raised in the country with no expectation of riches or position, the Huxtables are charmingly unstuffy and egalitarian—in fact, unbelievably so for anyone with more than a slight grounding in the history of the period. The three previous novels having married off the Huxtable sisters to suitably delicious men, it's now Stephen's turn to find romance.
The widowed Cassandra, Lady Paget, is on the verge of destitution. The rumor that she murdered her husband with an axe (which she scorns to refute) bars her from genteel employment. Furthermore, she is the sole support of her former governess (now her companion), a maid-of-all-work, the maid's small daughter, and a dog who has seen better days. She arrives in London determined to remedy their financial plight by attracting a wealthy man who will make her his mistress.
At a ball, her glance lights on the angelic-looking Stephen with his blond curls, manly figure and agreeable manner. He offers little more than token resistance, but his gentlemanly conscience and genuinely loving nature raise difficulties for Cassandra, who intends nothing more than a businesslike transaction, while also making him a rather predictable love interest for the reader. Still, the characters in Seducing an Angel make pleasant companions for a few hours of reading, and a couple of gentle but explicit sex scenes heat up the pages. (2009, 325 pages)
More about Seducing an Angel at Powell's Books or Amazon.com

Other novels in the Huxtable Family series:
#1: First Comes Marriage (2009). More info
#2: Then Comes Seduction (2009). More info
#3: At Last Comes Love (2009). More info

Nonfiction about Regency fashions and customs:
An Elegant Madness: High Society in Regency England by Venetia Murray (1999). More info
What Jane Austen Ate and Charles Dickens Knew by Daniel Pool (1993). More info
The Mirror of the Graces; or, The English Ladies Costume by "A Lady of Distinction" (1811). More info

Online:
Regency Reproductions, a seamstress's website which shows illustrations of actual and reproduction nineteenth century clothing
1795-1820 in Fashion at Wikipedia



Back to Historical Novels: 19th Century Europe

Back to Directory of Book Reviews