The Secret History of Costaguana
by Juan Gabriel Vásquez
Reviewed by Margaret Donsbach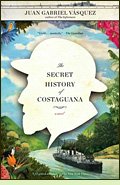 In The Secret History of Costaguana, a fictional narrator presents the "real" story behind Joseph Conrad's novel Nostromo, in which a fictional silver mine in a fictional country (Costaguana) stands in for the sordid history of the Panama Canal. Conrad published Nostromo in 1904, a year after the U.S. government cut a deal to support rebels in northern Colombia, creating the new breakaway country of Panama. But the story begins fifty years earlier, before the narrator's birth.
José Altamirano is the illegitimate son of a liberal journalist. In the 1850s, Miguel Altamirano champions the cause of medical students prohibited from dissecting Christian cadavers. A U.S. entrepreneur's ambitious but deadly project to construct an Isthmus-spanning railroad offers the solution: "fifteen barrels full of ice. In each one came a Chinese coolie doubled over and recently deceased from dysentery or malaria, or even cholera, which in Bogotá was now a thing of the past."
The coolie-stuffed barrels lead to a cholera epidemic, José Altamirano's conception, and Miguel Altamirano's new enthusiasm: the French effort "to part the land as Moses parted the sea." But Moses had it easy. Revolutions, disease and escalating expenses plague the canal project. The tropical rainfall is such that a visitor awakens "in a fright, because she thought the city was being bombed." The sides of the partially excavated canal keep collapsing under the onslaughts, "wet and stubborn and impossible like a gigantic clay balcony ripped off the side of a hilltop cottage."
From the beginning, the narrator alludes to his betrayal by his "doppelganger," Joseph Conrad. Enraged by his country's "meddling, despotic, murderous history" and wracked by guilt over his part in its "crucifixion," José finally unloads his story to Conrad, who writes about a silver mine instead. The Secret History of Costaguana is a sprawling, vivid, darkly humorous catalog of betrayals, as chaotic on the surface as Colombian history but with a relentless inner drive that hurtles its "Readers of the Jury" onward to its anguished conclusion. (2007 in the original Spanish, 2011 English edition expertly translated by Anne McLean; 283 pages, including an Author's Note regarding mentioning selected sources)
More about The Secret History of Costaguana at Powell's Books or Amazon.com

Other novels of South America:
Nostromo by Joseph Conrad (1904), about a silver mine in the fictional South American country of Costaguana. More info
The Seamstress by Frances de Pontes Peebles (2008), about two sisters who are seamstresses in 1930s Brazil, one of whom is abducted by rebels, the other of whom marries a wealthy, politically powerful doctor. More info
The General in His Labyrinth by Gabriel Garcia Marquez (1989), about the last years of Simón Bolivár, who led the struggle for South American independence from Spain in the early nineteenth century. More info
The War of the End of the World by Mario Vargas Llosa (1981 in the original Spanish, 1984 in English), about a peasant revolt in Brazil; based on the life of a nineteenth-century Brazilian prophet. More info

Nonfiction about the history of the Panama Canal:
The Path Between the Seas: The Creation of the Panama Canal, 1870-1914 by David McCullough (1977). More info
Panama Fever by Matthew Parker (2008). More info
The Canal Builders: Making America's Empire at the Panama Canal by Julie Greene (2009). More info

Online:
The French Failure, about the doomed French efforts to build a canal through the Isthmus of Panama, at czbrats.com



Back to Historical Novels of Latin America

Back to Directory of Book Reviews