The Secret Chord

by Geraldine Brooks

Reviewed by Margaret Tomlinson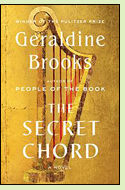 The Secret Chord is about one of the most fascinating figures in the Old Testament: King David. According to the Biblical story, David was a poor shepherd boy when a prophet recognized him as the future king of Israel. His story, told in 1 Samuel 16 through 1 Kings 2 of the Bible, includes such dramatic events as the slaying of Goliath, the friendship of David and Jonathan, David's adultery with Bathsheba, and the revolt of David's beloved son Absalom. Brooks enlarges and deepens the Biblical story into a convincing, engaging novel narrated by Nathan, King David's prophet and adviser.
Readers familiar from childhood with the Biblical story are likely to find new meanings and emotional resonance in it as the novel unfolds. Readers unfamiliar with the story will be introduced to the deeply human tale of a man both great and flawed. Did David really exist? Scholars disagree. The discovery in the 1990s of a stone monument, a "stele," and the translation of the inscription on it, provided the first solid evidence outside the Bible of kings belonging to "the House of David." In 2007, archaeologists uncovered the ruins of a fortress, Khirbet Qeiyafa, above the Valley of Elah, where David was said to have slain Goliath; some archaeologists believe the evidence suggests it was a Canaanite stronghold; others are skeptical.
Whether or not King David actually lived, The Secret Chord is a beautifully written and researched novel which further illuminates a story steeped in the human truth that a leader can be an admirable, inspirational figure and, at the same time, capable of cruel, self-serving acts with devastating consequences for himself, the people he loves, and the people he leads. This truth, sadly, is as relevant in the present as it was in the past. The novel, happily, is riveting, meaningful, and ends on a note of hope. (2015, 302 pages including an Afterword listing the most important sources)
More about The Secret Chord at Powell's Books
or
Amazon.com
Other novels about King David:
King David
by Allan Massie (1995), a portrayal of the Biblical King David as a shrewd politician and a complex, flawed man of faith.
More info
David: The Warrior King
by David J. Ferreira (2009), a novel set in 1000 B.C. about the biblical King David, from anointing to crowning; religious message.
More info
Queenmaker: A Novel of King David's Queen
by India Edghill (1999), about Michal, the daughter of King Saul.
More info
Nonfiction about King David:
David: The Divided Heart
by David Wolpe (2014).
More info
The Historical David
by Joel Baden (2013).
More info
The Life of David
by Robert Pinsky (2005).
More info
King David: A Biography
by Steven L. McKenzie (2000).
More info
Online:
Khirbet Qeiyafa Archaeological Project
, the website of the Khirbet Qeiyafa excavations.
Back to Novels of Ancient History
Back to Directory of Book Reviews