The Secret Adventures of Charlotte Brontë
by Laura Joh Rowland
Reviewed by Susan Gillmor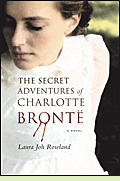 A fictional version of the renowned nineteenth century author narrates The Secret Adventures of Charlotte Brontë, set in the year 1848. Charlotte and her sister Anne befriend young Isabel White on a train to London, where they plan to meet with their publishers. That evening, Charlotte witnesses Isabel's murder in an alley near their hotel, embroiling them in an increasingly dangerous and complex mystery.
As narrator, Charlotte asserts, "When writing a fictitious story, one should always choose the most exciting possible course. . . . Characters in a book should experience action rather than inertia, and thrills rather than contentment. How fitting, therefore, that what I would write in fiction is what transpired in actuality." Sure enough, what seems a simple case of murder by unknown common criminals burgeons far beyond the ordinary. Soon Charlotte is entangled with secret agents in Her Majesty's service and nefarious cohorts of mysterious masterminds. Among other shocking developments, she discovers ties to illegal arms dealing and the opium trade amid the highest echelons of British society. Her efforts to solve Isabel's murder lead her all over Europe and ever closer to peril.
The novel evokes an authentically Brontë-esque atmosphere. On the Cornish coast, "the dense, swirling mist obscured my vision. . . muted the sea's roar and settled upon me, damp and chill." Rowland is at her best depicting the temperaments and foibles of Charlotte's family, including her father, sister Emily, and drug-addicted brother Branwell. Her portrayal of their impoverished Yorkshire village on the edges of the girls' beloved moors is vivid and bittersweet.
There are, perhaps, several too many variations on Charlotte's "trembling fear" or "nearly fainting with terror," symptoms of a weak-minded sensibility hard to reconcile with the creator of austere and hardy Jane Eyre. Fans of Brontë, however, may well enjoy this tale filled with adventures and intrigue that allow Charlotte to escape the trap of her otherwise sheltered world and venture beyond the horizons of her fertile imagination. (2008; 379 pages, including a brief Author's Note distinguishing historical from fictional characters)
More about The Secret Adventures of Charlotte Brontë at Powell's Books or Amazon.com

Other Charlotte Brontë mysteries:
Bedlam by Laura Joh Rowland (2010), the sequel to The Secret Adventures of Charlotte Brontë. More info

Other mysteries featuring nineteenth century authors:
The Tale of Hill Top Farm by Susan Wittig Albert (2004), featuring children's author Beatrix Potter as sleuth; #1 in the Cottage Tales series. More info
Oscar Wilde and a Death of No Importance by Gyles Brandreth (2008; titled Oscar Wilde and the Candlelight Murders in the U.K.), featuring playwright Oscar Wilde and mystery author Arthur Conan Doyle as sleuths; #1 in the Oscar Wilde mystery series. More info
The Dante Club by Matthew Pearl (2003), a standalone mystery featuring a group of Boston literary men, including Henry Wadsworth Longfellow, Dr. Oliver Wendell Holmes, and James Russell Lowell as sleuths. More info

Nonfiction about opium:
Confessions of an Opium Eater by Thomas De Quincey (1821), about the hallucinations, paranoia and despair induced by the nineteenth century author's opium habit. More info
Opium Regimes: China, Britain, and Japan, 1839-1952 edited by Timothy Brook and Bob T. Wakabayashi (2000), essays about the history of government involvement in the opium trade. More info
Opium by Colin R. Shearing (2005), about the history of opium over the past five thousand years. More info

Online:
Brief history of opium at Opiates.net



Back to Historical Novels: Nineteenth Century Europe

Back to Directory of Book Reviews