The Sealed Letter
by Emma Donoghue
Reviewed by Margaret Donsbach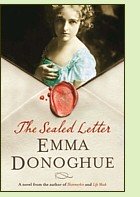 The Sealed Letter is based on the 1864 divorce case of Vice-Admiral Henry Codrington and his wife Helen, which created a sensation in the London newspapers. An incidental victim was journalist Emily Faithfull (known to her friends as Fido), an early leader of the British women's movement.
Among the striving classes of 1864 London, respectability is everything. The feminist crusaders of the organization to which Fido belongs, mostly spinsters, are as concerned about their reputations as the most conventional supporters of the status quo – perhaps more so, as they already targets of slander. So when Fido's once very dear friend Helen, a beautiful, impulsive and vividly emotional woman raised in the more fervid climes of India and Italy, reappears, Fido's delight is mingled with anxiety.
"It's quite mysterious to Fido, that electric chain of feeling that can link two women of different ages, backgrounds, temperaments; that throb of sympathetic mutuality, that chiming note outside the range of men's hearing. Without understandng it, she's always responded to it as a diviner to the call of water deep underground." And yet, almost at once, Helen's whims and emotional demands begin disrupting Fido's professional life. And when Vice-Admiral Codrington decides to divorce his unhappy wife, the disruptions escalate in a way that could destroy Fido's carefully guarded reputation and, with it, her career.
It can be hard for readers in an age that prizes openness and spontaneity to feel complete sympathy with characters from such a corseted time, but Donoghue makes Fido and her fears so real that many readers, especially those drawn to the Victorian period, will not mind. Even without gunplay, daggers or blood, The Sealed Letter reads like a thriller as the legal battle between Helen and her husband escalates and pulls the entangled Fido to the brink of social annihilation. (2008, 396 pages, including an "Author's Note" distinguishing fact from fiction)
More about The Sealed Letter from Powell's Books

Other novels about people striving to remain respectable in Victorian England:
Arthur and George by Julian Barnes, about the efforts of novelist Sir Arthur Conan Doyle to assist a man wrongly convicted of a crime. More info
The Dark Lantern by Gerri Brightwell, about a housemaid who conceals the fact that her mother was hanged for murder. More info
Possession by A.S. Byatt, about modern literature students researching a pair of Victorian writers and their love affair. More info

Nonfiction about Emily Faithfull and the nineteenth century British women's movement:
Emily Faithfull: Victorian Champion of Women's Rights by James Stone More info
Equal or Different: Women's Politics 1800-1914 by Jane Rendall More info
Barbara Leigh Smith Bodichon: Feminist, Artist and Rebel by Pam Hirsch More info
Back to Historical Novels: 19th Century Europe

Back to Directory of Book Reviews