Seaflower
by Julian Stockwin

Reviewed by David Maclaine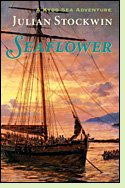 Seaflower is the third novel in Julian Stockwin's series devoted to the nautical adventures of the fictional Thomas Paine Kydd. This time the setting is the Caribbean Sea, where Kydd and his friends have been hustled on account of their inconveniently truthful depositions at a court martial. Now they must face the new challenges of hurricane and yellow fever as well as the familiar danger of war at sea against the French foe. For some time Kydd and his good friend Renzi are parted by the exigencies of war, and we learn fresh details about the latter gentleman's family background, and even his real name, richly deserved even according to the exacting eighteenth-century classifications. As their journeys weave back and forth between Barbados and Port Royal, with stops at Antigua and an assortment of French islands on the way, we overhear tales of the old days of piracy and learn a bit about the slave economies of the sugar-producing islands. There are also a couple of surprising family reunions along the way. As this tale reaches its climax, our friends find themselves on a mission to deliver a prestigious emissary with urgent news about the war. The obstacles soon become overwhelming, and only the knowledge that the series will continue hints that they will prevail against long odds.
With this third novel Stockwin seems fully at ease with his voice, more assured in his decisions to summarize and leap forward in time rather than maintain an unbroken tempo. Or perhaps he is simply one of those happy companions on a long journey with whom one feels increasingly comfortable as time makes his ways familiar. Stockwin is certainly a narrator whose amiable manner wears well, and one whose storytelling decisions grow easy to trust. Seaflower offers an eventful Caribbean cruise with a bit more terror and despair than usual, but it ends with prospects looking good for its upwardly mobile hero. (2003, 320 pages)
More about Seaflower at Powell's Books
or
Amazon.com
Other novels about Caribbean naval adventures:
To Glory We Steer
by Alexander Kent (1968), #7 in the Richard Bolitho series.
More info
Havoc's Sword
by Dewey Lambdin (2003), #11 in the Alan Lewrie series.
More info
Pirate Latitudes
by Michael Crichton (2009), about a seventeenth-century privateer on a dangerous mission. See
review
or
more info at Powell's Books
Nonfiction about Caribbean history and British naval operations there:
British Forces in the West Indies, 1793-1815
by Rene Chartrand and illustrated by Paul Chappell (1996), an Osprey illustrated guide.
More info
History of the Caribbean: Plantations, Trade and War in the Atlantic World
by Frank Moya Pons (2007).
More info
Tropical Babylons: Sugar and the Making of the Atlantic World, 1450-1680
edited by Stuart B. Schwartz (2003).
More info
Online:
The British Royal Navy, 1805-1815
at www.napolun.com

Back to Novels of the Napoleonic Era

Back to Directory of Book Reviews