The School of Night
by Louis Bayard
Reviewed by Margaret Donsbach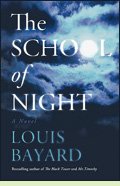 "Black is the badge of hell,/The hue of dungeons and the school of night," wrote Shakespeare in Love's Labour's Lost. Did he mean anything special by "school of night" (assuming he didn't mean "suit of night" or "scowl of night" as in some editions)? Arthur Acheson speculated in his 1903 work Shakespeare and the Rival Poet that the phrase might refer to a secret society formed by Queen Elizabeth's courtier Walter Raleigh and other intellectuals, including astronomer Thomas Harriot, who made a drawing of the moon viewed through a telescope months before Galileo did.
Bayard's novel opens in Washington D.C. in 2009. Henry Cavendish, a washed-up academic, is serving as executor of the estate of his old friend Alonzo Wax, an avid collector of antiquarian books. After the funeral, a suspiciously suave Englishman offers Henry a stupendous sum to locate an Elizabethan manuscript he claims Alonzo stole from him, a previously unknown letter from Raleigh (or Ralegh, as the most up-to-date scholars now spell his name) mentioning "our homelie Schoole." It might be the evidence Henry and Alonzo had long been seeking that the "School of Night" truly existed. Henry accepts the offer, and bodies begin dropping. Obviously, the document is of more than academic interest to someone.
Although over half the novel is set in the present day, its most moving and well-crafted scenes take place in 1603 England after Queen Elizabeth's death, a politically perilous time for Ralegh and his friends, who have been accused of atheism. This story-within-a-story centers on Thomas Harriot, whose one voyage to the New World has left him with a melancholy that "coats him like ash," and on the fictional serving woman with whom he slowly falls in love. While the present-day story is a better-than-average thriller, it's the 1603 story with its deeply textured historical detail and haunting prose that will sweep history lovers off their feet. (2010; 338 pages)
More about The School of Night at Powell's Books or Amazon.com

Other novels relating to the "School of Night":
The School of Night by Alan Wall (2000), a novel about a present-day academic obsessed with researching the true authorship of Shakespeare's plays. More info
A Dead Man in Deptford by Anthony Burgess (1993), about Elizabethan playwright Christopher Marlowe. See review or more info at Powell's Books
Veronica by Nicholas Christopher (1996), about a present-day New Yorker swept into a surrealistic adventure which includes time travel. More info

Nonfiction by and about Thomas Harriot and the "School of Night":
A Briefe and True Report of the New Found Land of Virginia by Thomas Hariot (1590). More info at Powell's Books or read online.
Thomas Hariot by Henry Stevens (1900), a biography of Harriot. More info
Thomas Harriot: Science Pioneer by Ralph Staiger (1998), a biography of Harriot for children. More info

Online:
The Englishman Who Beat Galileo about Thomas Harriot at Skymania.com



Back to Novels of the Seventeenth Century

Back to Directory of Book Reviews