The Scarlet Lion
by Elizabeth Chadwick
Reviewed by Margaret Donsbach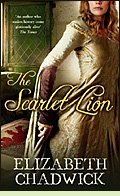 The Scarlet Lion is about the hair-raising life of an aristocratic family in medieval England. Readers follow both the seasons and crises within the marriage of William Marshal and Isabelle de Clare and the dangers they face together during the two decades from 1197 to 1219.
William has served English royalty through the reigns of Henry II and his son Richard the Lionheart. After he supports the accession of King John, it's natural for him to continue as England's Marshal. But living within reach of John's suspicious, mercurial temper is neither easy nor safe. "I am doing my best to walk between two fires without getting burned," he tells his wife. Isabelle is the center around whom the story revolves. She bears and raises his children, serves as his closest adviser and haven in a storm and, while he is absent in the king's service, makes military and political decisions when their lands are threatened. A daughter of the near-legendary Irish chieftain Richard Strongbow, she has inherited her father's Irish lands as well as his temper and his steely will. When William falls out of favor with John, Isabelle's strong personality both sustains and endangers them.
The novel makes vivid the type of provocations that led John's barons to insist he sign the Magna Carta. Loyalty to king and country was no simple matter for families who owned hereditary estates in both England and France. Its demands could be heart-wrenching in an time when a king could command that a child be delivered to him as hostage for the parent's "good" behavior.
Although The Scarlet Lion continues the story of William Marshal begun in The Greatest Knight, it stands on its own. The prose style is more assured and graceful in this later novel, and the sex scenes are especially well written: elegantly sexy, realistic and devoid of cliché. (2006; new Sourcebooks edition 2010, 557 pages, including an Author's Note discussing the research behind the novel, and a Select Bibliography)
More about The Scarlet Lion at Powell's Books or Amazon.com
Interview with author Elizabeth Chadwick

Other novels featuring William Marshal and King John:
The Greatest Knight by Elizabeth Chadwick (2005), about William Marshal's life from the time he is a young knight until he marries Isabelle de Clare. See Review or More info at Powell's books
Dawn of the White Rose by Mary Pershall (1985), historical romance about Marshal's wife, Isabel de Clare; #2 in the Roses series. More info
Myself as Witness by James Goldman (1979), about King John, as narrated by chronicler Gerald of Wales. More info

Nonfiction about William Marshal:
William Marshal: Knighthood, War and Chivalry, 1147-1219 by David Crouch (2002), highly recommended by author Elizabeth Chadwick.
More info
William Marshal: Knight Errant, Baron and Regent of England by Sidney Painter (1933). More info
History of William Marshal, (originally written in French as L'Histoire de Guillaume le Maréchal shortly after Marshal's death in 1219; modern English translation by S. Gregory and D. Crouch, 2002).

At the Movies:
The brilliant 1968 film of The Lion in Winter
starring Katherine Hepburn and Peter O'Toole as Eleanor of Aquitaine and Henry II, includes a brief scene in which William Marshal (played by Nigel Stock) appears. It also features young actors Anthony Hopkins and Timothy Dalton in their first movie roles as Richard the Lionheart and Philip of France. Not to be missed.

Online:
Isabelle de Clare article at Wikipedia



Back to Medieval: The Angevins

Back to Directory of Book Reviews