Saint Brigid's Bones

by Philip Freeman

Reviewed by Margaret Tomlinson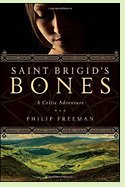 Set in sixth-century Ireland, Saint Brigid's Bones is a mystery (not a murder mystery, but otherwise true to the genre), which features a young nun in the monastic community of Kildare, founded by Saint Brigid around 480. It portrays life in an Irish monastery at a time when paganism was still practiced openly, and the tolerant Irish strain of Christianity contrasted sharply with the more rigid style of mainland Europe. Briskly paced and easy to read, the story revolves around the conflicts between these three different approaches to religion and their relationship to power politics in early Christian Ireland.
Deirdre submits to her abbess's rule, but in the still-pagan world of the Irish aristocracy she still has the authority of her past status as a bard. When someone steals the bones of Saint Brigid, said to have healing powers, from the monastery church, the loss of income from pilgrims pushes the community to the brink of disaster. Deirdre's bardic background makes her the obvious choice to find and retrieve the bones. Along the way, she encounters a charismatic past lover, her ex-husband, an elderly king and his greedy, ill-mannered sons, a power-hungry bishop, and a variety of other characters drawn in broad, colorful strokes.
If some of the characters are mystics, the novel comes down firmly on the side of rational explanation - so firmly that Deirdre sometimes feels like a modern rationalist in ancient Celtic dress. And if it accurately portrays the setting's factual background, the psychology and behavior of the characters frequently challenge credibility. In a world of guile, for example, guileless young Dierdre repeatedly approaches dangerously violent characters, including a group of brutal outlaws, to question them directly about the theft. For readers comfortable suspending disbelief, though, Saint Brigid's Bones is an enjoyable and educational tour through a fascinating lost world. (2014; 227 pages, including a brief Afterword about the history behind the novel)
More about Saint Brigid's Bones at Powell's Books
or
Amazon.com
Other novels set in early Christian Ireland:
Confessions of a Pagan Nun
by Kate Horsley (2001), about a woman who studied to become a druid but later joins a Christian convent. See
review
or
more info at Powell's Books
Brigid of Kildare
by Heather Terrell (2010), about the unconventional fifth-century abbess Brigid of Kildare and a Roman priest sent to collect evidence that she is a heretic, and a present-day researcher who discovers an illuminated manuscript dating from Brigid's time.
More info
Brendan
by Morgan Llywelyn (2010), about Brendan of Clonfert and his legendary voyage in search of the Island of Paradise. See
review
or
more info at Powell's Books
Nonfiction about early Christian Ireland:
Brigid: Goddess, Druidess and Saint
by Brian Wright (2009).
More info
Early Christian Ireland
by T.M. Charles-Edwards (2000).
More info
The Modern Traveller to the Early Irish Church
by Ann Hamlin and Kathleen Hughes (1997).
More info
Online:
Saint Brigid
at the Ireland's Eye website
Back to Novels of the Medieval Celts
Back to Directory of Book Reviews